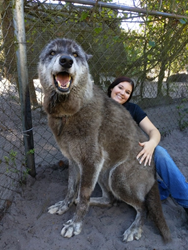 Yuki is indeed 87.5% Grey Wolf, 8.6% Siberian Husky and 3.9% German Shepherd, making him one of the highest wolf-content rescues living at the Sanctuary
NAPLES, Fla. (PRWEB) March 26, 2019
You may have heard about Yuki the famous "giant" wolfdog living at Shy Wolf Sanctuary Education and Experience Center (SWS) in Naples, Florida. Thanks to BoredPanda.com, Yuki's story of his rescue, his happy life at SWS and need for a larger habitat has gone viral. Abandoned at eight months old by his original owners living on Florida's east coast, Yuki ended up in a Florida high-kill shelter. Thankfully, an employee at the shelter told Shy Wolf Sanctuary about him, and Yuki got a second lease on life at SWS 2007.
He has lived there ever since as he had some behavioral concerns that made him unadoptable. A 2018 DNA test confirmed that Yuki is indeed 87.5% Grey Wolf, 8.6% Siberian Husky and 3.9% German Shepherd, making him one of the highest wolf-content rescues living at the Sanctuary. He lives a happy life, having bonded with a small number of female volunteers, affectionately known as his "harem". He also prefers to spend his quiet time with a much smaller female wolfdog named Bella, but don't be fooled, Yuki knows his place around the more dominant Miss Bella.
Unfortunately, Yuki and his fellow rescues have long outgrown their 2.5-acre Naples habitat. SWS needs your help in order to relocate to a significantly larger facility in Collier or Lee County in order for Yuki and his SWS friends to have room to roam as well as space for additional rescues. SWS currently houses a variety of endangered species including wolves, dingoes, panthers, New Guinea Singing Dogs, and Florida gopher tortoises. Wolfdogs, raccoons, coyotes and skunks are just some of those not classified as endangered who have also made SWS their home. Game of Thrones fans might get inspired thinking of the pack of Dire wolves featured in the series. One look at Yuki's happy face and it's clear that he's found a safe, loving home.
A GoFundMe page has been set up to donate towards the needed $100,000 goal of funds to initiate Shy Wolf's efforts to relocate their facility and continue their work. Donations are also accepted via the Shy Wolf webpage.
Share article on social media or email: