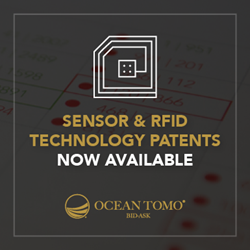 San Francisco, CA (PRWEB) October 05, 2017
Ocean Tomo, creator of the Ocean Tomo Bid-Ask™ Market presents Lot 43, HP Inc. patents related to Sensor and RFID technology. This lot is available at auction on the Ocean Tomo Bid-Ask Market through October 20, 2017.
The patents in this lot include technologies related to thermal and flow sensors, media stack control, temperature monitoring system, variable signal range, secure currency, tailored content response based on product identifier method and apparatus among others.
Patents in Lot 43 have been cited in over 95 subsequent patent filings by over 40 companies inventing in this space. Notable companies citing this technology include; International Business Machines Corp, IBM, Zebra Technologies Corp., Honeywell International Inc., Ricoh Company Ltd., ABB Ltd., MPT, Inc., and Corning Incorporated.
The HP auction will be held in both English and Mandarin for brokers located in both the U.S. and China. Payments can be made in USD or RMB. Ocean Tomo Bid-Ask™ professionals located in the U.S. and in China can manage the needs of buyers in their local time zones and in their native languages.
For further information on these HP assets for sale and to request bidding information please contact HPAuction(at)OceanTomo(dot)com.
About Ocean Tomo Bid-Ask™ Market
The Ocean Tomo Bid-Ask™ Market (OTBA) was built to further enhance Intellectual Property (IP) liquidity and transaction transparency. OTBA serves a broad community of active buyers and sellers, providing a platform to purchase or sell patents and patent applications globally. This market is supported by Ocean Tomo and affiliate international voice brokers.
OTBA is a highly efficient platform able to quickly clear patent transitions through a unique blend of technology and professional services. OTBA is currently available in both English and Mandarin (with other language offerings forthcoming). Traditional auction markets are seller driven – buyers are limited to what is offered for sale. The Ocean Tomo Bid-Ask Market equally services buyers and sellers. Buyers can now efficiently post anonymous bids resulting in prompt notification of the patent owner by Ocean Tomo.
Share article on social media or email: