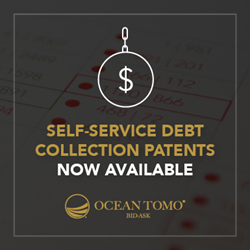 Current licensees to the Apollo Enterprise Solutions Self-Service Debt Collection patent portfolio include one of the top four retail banks in the United States
CHICAGO (PRWEB) January 17, 2018
Ocean Tomo Transactions, LLC will auction 28 issued patents related to self-service debt collection and are part of the Self-service Debt Collection lot on the Ocean Tomo Bid-Ask™ Market.
The patents in this lot provide for a system and method of self-service online settling of transactions, renegotiation of established loan agreement debt terms, future payment transactions processing, dynamic credit score alteration, transaction resolution techniques, among others.
Joseph Konowiecki, Chief Executive Officer of Apollo Enterprise Solutions, AES, provides an overview of the technology, "the patent portfolio covers technologies that enable consumers to resolve their debt delinquencies online on a self-serve basis, without any interaction with live collection agents. Utilization of this technology reduces the cost of collections, improving consumer goodwill towards their creditors, speeds-up the debt settlement process, and increases the amounts collected." Licensees to this portfolio include one of the top four retail banks in the United States.
The patents in this lot available for sale or non-exclusive license would be of interest to banks, credit card issuers, merchants, revolving and non-revolving credit issuers, merchant service providers in the payments industry, among others.
This lot is available for purchase or non-exclusive license. To request bidder credentials or for further information on this auction or other auctions on the Ocean Tomo Bid-Ask™ Market, contact Dean Becker at dean@OTI.com or +1 251 262 0000.
About the Ocean Tomo Bid-Ask™ Market
The Ocean Tomo Bid-Ask Market is an open on-line platform to buy and sell patents. This market is an important step forward, both as a simplified solution for patent transactions as well as a source of information on patent pricing.
The Ocean Tomo Bid-Ask Market uniquely combines the efficiency of an online platform with an experienced team of brokers fluent in both English and Mandarin. The market uses standard transaction documents and is open, transparent and free to view.
Share article on social media or email: