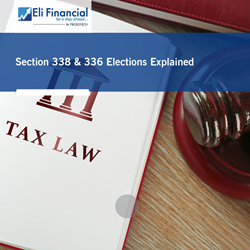 Know how and when to use the elections when stock is being purchased or disposed
DURHAM, N.C. (PRWEB) January 15, 2019
Eli Financial, a division of audio conference and corporate education leader ProEdTech, will host the live webinar "Section 338 & 336 Elections Explained—With Practical Examples" with industry veteran Vicki L. Mulak, EA, CFP® on Thursday, January 31, 2019, at 1 pm ET.
Can a buyer acquire a target corporation's stock for legal purposes but its assets for tax purposes, resulting in a stepped-up basis in the target corporation's assets? Fortunately, the answer is YES, when one of the two Section 338 elections is made, viz. 338(g) or 338(h)(10). Similarly, the Section 336(e) election can be advantageous for stock transfers to non-corporate purchasers. But how and when can one use the elections when the stock is being purchased or disposed?
Time to get acquainted with Section 338 and 336 elections: In this detailed webinar, taxation and accounting expert Vicki L. Mulak, EA, CFP® will walk attendees through the mechanics of all three elections, show how they are made, and explain which elections are appropriate for which client scenario. Mulak will use practical scenarios, and provide a tax reform update affecting scenarios where target corporations are controlled foreign corporations (CFCs).
After attending this webinar, attendees will know how and when to use the elections when stock is being purchased or disposed. They will be able to calculate the basis in assets that result from the election for the purchaser, and calculate the gain to the seller. This webinar will also make them more confident in recognizing how "old target" and "new target" are treated for tax purposes with each of the three elections.
Session Highlights
The session will help CPAs, EAs, attorneys, and other tax preparers to learn:
How each Section 338 election functions in a sale of stock
How to calculate the Aggregate Deemed Sale Price (ADSP) and the Adjusted Grossed-Up Basis (AGUB)
How to calculate the Aggregate Deemed Asset Disposition Price (ADADP) for 336(e) elections
How to properly complete IRS election Form 8023 and asset allocation Form 8883
For more information on Section 338 and IRS election Form 8023, and to register, visit: https://www.elifinancial.com/taxation/section-338-and-336-elections
Get 25% off on our webinars. Use Code PRWEB25 on checkout.
About ProEdTech
ProEdTech is a leading source of knowledge and training for professionals in over 15 industries, serving individuals, businesses and their employees around the globe. It offers webinars, online conferences, seminars, boot camps, books, DVDs, white papers, industry reports and other learning tools from industry experts and insiders who provide a fresh perspective on key issues, trends and regulations in order to simplify governance, risk and compliance (GRC) for enterprises and industry professionals. ProEdTech's AudioEducator webinars offer updates, regulatory knowledge and information on the latest news in various medical specialties, as well as coding and billing updates, and analysis of regulations that affect ambulatory surgical centers, home health, long term care and hospice facilities, hospitals and healthcare systems, health insurers and physician practices. Webinars are also offered through AudioSolutionz in the technology, human resources, construction and housing, ICT and telecom, manufacturing, consumer packaged goods and retail, safety and security, transportation, energy and environment, education, trade, and chemicals industries. ProEdTech's Eli Financial platform offers tax and banking professionals, focusing on providing high-quality online training products customized for U.S. lenders and tax practitioners that include the latest updates from the IRS, CFPB and other regulatory authorities. ProEdTech regularly provides professionals the opportunity to get answers to their most complex questions directly from experts, without having to attend costly live conferences. To learn more, visit: http://www.proedtech.com/.
Share article on social media or email: