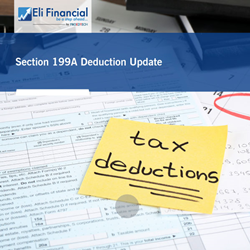 Get valuable insight into Section 199A, to help maximize available tax benefits,—and minimize any negative impact.
DURHAM, N.C. (PRWEB) December 19, 2018
Eli Financial, a division of audio conference and corporate education leader ProEdTech, will host a live, 120-minute live webinar titled "Section 199A Deduction—How to Maximize Benefits?" with Arthur Werner on Friday, December 28, 2018.
The 2017 Tax Cuts and Jobs Act (TCJA) introduced sweeping changes through Section 199A of the IRC (Internal Revenue Code). Individuals, estates, and trusts may now deduct up to 20% of their qualified business income from sole proprietorships and pass-through entities. But like all new tax reforms, this section is also clouded by layers of ambiguity and uncertainty, and may be preventing CPAs, financial planners and tax preparers from passing on the full benefits to their clients.
Taxation expert Arthur J. Werner will decode Section 199A in this information–-packed webinar, and show attendees how to advise clients so that they can benefit from this deduction fully. Werner will go through the major changes to the tax code, and also clear the confusion around eligibility, income thresholds, W2 wages, and investment limits.
This webinar will provide valuable insight into Section 199A, help maximize available tax benefits, and minimize any negative impact. After attending it, attendees will be better equipped to advise their clients on how to maximize benefits from this new deduction.
Session Highlights
This in-depth 120-minute section 199a deduction webinar will help attendees:
    Understand the major changes to the tax code
    Know the eligibility and income thresholds
    Get current with W2 wages and investment limits
    Identify what exactly is qualified business income
    Learn how to calculate the 199A deduction
    Help clients maximize their deduction
Who Should Attend
    Certified public accountants (CPAs)
    Enrolled agents (EAs)
    Attorneys
    Financial planners
    Other tax preparers
    Small business owners
    All tax practitioners who anticipate advising clients with respect to the Section 199A 20% deduction
For more information and to register for this webinar, visit: https://www.elifinancial.com/taxation/tax-cuts-jobs-act-business-entity-understanding-section-199a
Get 25% off on our webinars. Use Code PRWEB25 on checkout.
About ProEdTech
ProEdTech is a leading source of knowledge and training for professionals in over 15 industries, serving individuals, businesses and their employees around the globe. It offers webinars, online conferences, seminars, boot camps, books, DVDs, white papers, industry reports and other learning tools from industry experts and insiders who provide a fresh perspective on key issues, trends and regulations in order to simplify governance, risk and compliance (GRC) for enterprises and industry professionals. ProEdTech's Eli Financial platform offers tax and banking professionals, focusing on providing high-quality online training products customized for U.S. lenders and tax practitioners that include the latest updates from the IRS, CFPB and other regulatory authorities. ProEdTech's AudioEducator webinars offer updates, regulatory knowledge and information on the latest news in various medical specialties, as well as coding and billing updates, and analysis of regulations that affect ambulatory surgical centers, home health, long term care and hospice facilities, hospitals and healthcare systems, health insurers and physician practices. Webinars are also offered through AudioSolutionz in the technology, human resources, construction and housing, ICT and telecom, manufacturing, consumer packaged goods and retail, safety and security, transportation, energy and environment, education, trade, and chemicals industries. ProEdTech regularly provides professionals the opportunity to get answers to their most complex questions directly from experts, without having to attend costly live conferences. To learn more, visit: http://www.proedtech.com/.
Share article on social media or email: