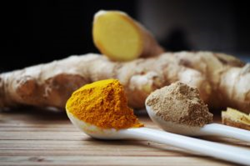 The treatment of tumor-bearing rats with 1.5 mg/kg curcumin...reduced the mean total tumor mass at day 16.
Raleigh, NC (PRWEB) September 25, 2017
A new study of curcumin finds that the plant polyphenol produced necrosis (tissue death) in mesothelioma tumors better than an epigenetic drug called SAHA. Surviving Mesothelioma has the full story on the website. Click here to read it now.
Curcumin, which has been the subject of numerous mesothelioma studies, is the compound that gives turmeric its distinctive yellow color and pungent flavor.
In a report published in the journal Oncotarget, researchers an INSERM and the University of Nantes gave curcumin to rats with sarcomatoid malignant mesothelioma, one of the most deadly and aggressive types of peritoneal mesothelioma.
"The treatment of tumor-bearing rats with 1.5 mg/kg curcumin on days 7, 9, 11 and 14 after tumor challenge dramatically reduced the mean total tumor mass at day 16," reports Dr. Daniel Pouliquen, lead author on the report
The researchers found that the residual mesothelioma tumors left behind after curcumin treatment were smaller and less aggressive than those left behind after SAHA treatment.
"Given that sarcomatoid mesothelioma is even more deadly than the more common epithelioid variety, news of a possible new treatment approach with curcumin is especially welcome," says Alex Strauss, Managing Editor for Surviving Mesothelioma.
Read about the new French study of curcumin, along with other studies of curcumin for mesothelioma, in Curcumin Shrinks Aggressive Mesothelioma Tumors in New Study, now available on the Surviving Mesothelioma website.
Pouliquen, DL, "Evaluation of intracavitary administration of curcumin for the treatment of sarcomatoid mesothelioma", Oncotarget, August 22, 2017, eCollection, https://www.researchgate.net/publication/314083774
For more than a decade, Surviving Mesothelioma has brought readers the most important and ground-breaking news on the causes, diagnosis and treatment of mesothelioma. All Surviving Mesothelioma news is gathered and reported directly from the peer-reviewed medical literature. Written for patients and their loved ones, Surviving Mesothelioma news helps families make more informed decisions.
Share article on social media or email: