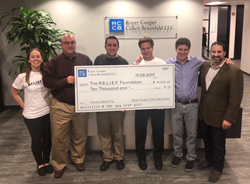 PHILADELPHIA (PRWEB) November 30, 2017
Royer Cooper Cohen Braunfeld LLC(RCCB), a law firm offering a distinctive combination of practical business acumen, legal expertise and entrepreneurial passion, today announced that the firm has donated $10,000 to The R.E.L.I.E.F. Foundation, a nonprofit disaster support operation headquartered in the Philadelphia region. RCCB's donation will positively influence the lives of those directly affected by the recent hurricanes that have ravaged the Gulf States and Caribbean.
The R.E.L.I.E.F Foundation is a non-profit organization dedicated to providing assistance to the people and areas that have experienced great hardship due to forces beyond their control. Forming after Hurricane Katrina in 2005, The R.E.L.I.E.F. Foundation uses crowd sourcing to organize volunteers to rebuild communities in devastated areas.
"The firm partnered with The R.E.L.I.E.F. Foundation because we wanted to team with a local organization to send a little bit of Philadelphia's brotherly love to those affected most in Houston," said Roger Braunfeld, Partner at RCCB. "Together, we were able to help rebuild parts of the Southeast Houston community that was impacted by Hurricane Harvey."
Thanks in part to RCCB's contribution, twenty-five R.E.L.I.E.F. Foundation volunteers were able to join a service trip to Southeast Houston, a community that endured immense hurricane damage. Some of their efforts included:
Home Demolition and Rehabilitation Prep – With a great number of Southeast Houston's older residents stuck in water-damaged, mold-infested homes, The R.E.L.I.E.F. Foundation ripped-up and removed mildewed floor boards and dry wall, in preparation for home renovation.
Community Garden – The R.E.L.I.E.F. Foundation helped clear debris, uproot contaminated plants and ready the soil for planting at The Magnificat Houses, a charitable, non-profit Christian Assistance Ministry that serves the homeless, mentally ill and less fortunate. The community garden is vital to sustaining the community of both temporary and long-term residents that live in the organization's sixteen structures.
Freeway Manor Baptist Church – The R.E.L.I.E.F. Foundation used the Freeway Manor Baptist Church as a home base throughout their efforts in Houston and concluded their trip with a community festival that offered food, water, toiletries, clothes and other goods to community members. As a way of energizing and rejuvenating the community, an art installation was dedicated and installed in the church that featured prayers from volunteers and members of the community.
"I've never seen a volunteer group in my life come to a community, like The R.E.L.I.E.F. Foundation did, and try so hard to do anything in their power to get families back in their homes," said Monty Montgomery, Pastor of the Freeway Manor Baptist Church. "They put actual feet on the ground, walked our streets and provided our residents with a much-needed helping hand as we started to rebuild our community."
In addition to the Houston efforts, the R.E.L.I.E.F. Foundation will also fund a service trip to Puerto Rico, help relocate a Houston restaurant and family to Philadelphia, and build-out the R.E.L.I.E.F. Foundation's crowd sourcing technology, which matches volunteers with services trips, putting feet on the ground of locations that need it most.
About Royer Cooper Cohen Braunfeld LLC
RCCB empowers your ambition. We are attorneys who think and act like entrepreneurs and business people. We combine sophisticated, cost-effective legal counseling with the type of sound practical judgment that comes from hands-on business experience. We encourage entrepreneurial approaches and creative thinking, while maintaining the utmost in integrity and responsiveness. RCCB understands and delivers the advice that companies, business executives and investors, as well as individuals and their families, need to realize their hopes and goals. From offices in the Greater Philadelphia area and New York, RCCB serves clients throughout the Mid-Atlantic region and beyond. Additional information about Royer Cooper Cohen Braunfeld is available at http://www.rccblaw.com.
Share article on social media or email: