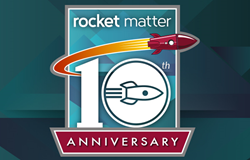 "When you're running a business, it's sometimes difficult to stop and smell the roses. We've been moving so fast, it's often tough to appreciate what we've built and how far we've come. However, this milestone is too big to ignore. We are very proud of this accomplishment."
BOCA RATON, Fla. (PRWEB) November 14, 2017
The first-ever cloud-based legal practice management software, Rocket Matter, began celebrating its 10th anniversary with a kickoff party this past Friday. The company will continue to honor this seminal achievement over the course of the next year with a road show, parties, special editions of their highly-regarded content, and other surprises.
For a tech startup, achieving ten years of business is a rarely-achieved accomplishment. What's particularly noteworthy is that Rocket Matter was not only the first product of its kind on the market, but its innovations continue to lead the field.
"Ten years merits some celebration and introspection," says Larry Port, CEO of Rocket Matter. "When you're running a business, it's sometimes difficult to stop and smell the roses. We've been moving so fast, it's often tough to appreciate what we've built and how far we've come. However, this milestone is too big to ignore. We are very proud of this accomplishment."
In 2007, the Florida-based company had to prove out the cloud legal practice management market. In particular, the company overcame objections of consultants with a vested interest in client/server software who sowed fear, uncertainty, and doubts about the use of the cloud for law firms.
The first ever Rocket Matter client was Peter Sosin, a lawyer from the company's home town in Boca Raton, FL. His firm began using the software before the name Rocket Matter was even chosen. Sosin often still refers to Rocket Matter as "The Product," which was the working title of the software back in November 2007.
After Sosin started tracking time with Rocket Matter for a while, he wanted to know how to generate invoices. Invoice generation was not originally part of Rocket Matter, so Port pulled an all-nighter and coded an invoicing package. Sosin has since gone solo, and he continues using Rocket Matter to this day.
About Rocket Matter
Rocket Matter helps law firms offer better client service and also increase revenues by more than 20%. The company was the first cloud-based legal practice management software on the market, landing its first client in 2007. It has been a leader ever since.
Rocket Matter has the most powerful, easy-to-use time and billing software in the industry. Also, when law firms want to make more money, go paperless, or increase confidence in their trust accounting, Rocket Matter helps them achieve those goals. With award-winning customer service based in the United States, it's no wonder thousands of law firms swear by Rocket Matter.
Share article on social media or email: