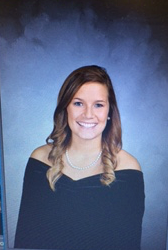 Nashville, TN (PRWEB) October 03, 2017
Rochford Law & Real Estate Title, a well-respected member of the Nashville legal and real estate community, is pleased to announce the hiring of Morgan Harrison, Title Processor.
Morgan holds a bachelor's degree in criminal justice from the University of Tennessee -- Chattanooga. She has additional experience in real estate and customer service, having worked as a leasing associate for a luxury apartment complex in Nashville.
"I am excited to work at Rochford Law & Real Estate Title and I am looking forward to the opportunity to provide outstanding service to our valued customers," said Harrison.
At Rochford Law & Real Estate Title, Harrison will be working with the team and assisting with:
Purchase and/or sale of residential or commercial property
Refinancing of residential or commercial property
Equity lines of credit
Title searches and title reports
Construction loans
Investment property transactions, including Section 1031 exchanges
For sale by owner ("FSBO")
Distressed property transactions, including foreclosures, short sales, and bank-owned property ("REOs"
Rochford Law & Real Estate Title aims to distinguish itself from other Nashville title companies by offering a unique level of personalized title and escrow service, market knowledge, and legal expertise. The firm is confident that clients will enjoy working closing with Ms. Harrison.
"It's our goal to provide expert legal advice and exceptional customer service." said lawyer John Cobb Rochford. "As Nashville's real estate market continues to flourish and our business continues to grow, it became clear that we needed a smart, experienced title processor to join our team."
Rochford Law & Real Estate Title is committed to providing comprehensive legal and title services for all real estate transactions.
About Rochford Law & Real Estate Title
Rochford Law & Real Estate Title is a real estate law firm and title company based in Nashville, TN. Since 1997, John Cobb Rochford has provided exceptional real estate legal services, upholding the highest values of integrity, character, honesty, and reliability. Rochford Law and Real Estate Title's professional results are a result of the firm's personalized service and community spirit. John Rochford has been awarded the highest attorney rating of AV from Martindale-Hubbell, a respected national attorney rating company. Visit RochfordLawyers.com to learn more.
Share article on social media or email: