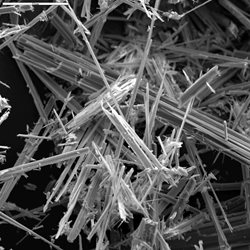 Most were exposed to both amphibole and chrysotile, but chrysotile alone was documented in 14/62 (26%) cases.
Raleigh, NC (PRWEB) September 27, 2017
A new study conducted at Boston's Massachusetts General Hospital finds that chrysotile or "white" asbestos causes mesothelioma, just like other types of asbestos, despite some arguments to the contrary. Surviving Mesothelioma has the full story. Click here to read it now.
Doctors analyzed the cases of 51 men and 11 women with diffuse peritoneal mesothelioma and found that many people had no other type of asbestos exposure but chrysotile.
"Most were exposed to both amphibole and chrysotile, but chrysotile alone was documented in 14/62 (26%) cases," writes Richard Kradin, MD, lead investigator on the study. "A total of 7/14 (50%) cases of the paraoccupational exposures were to chrysotile alone."
According to the article in the American Journal of Industrial Medicine, the study attempts to put an end to the controversy over whether chrysotile is capable of causing diffuse peritoneal mesothelioma, especially when the asbestos exposure did not happen directly on the job.
"This study just confirms what the EPA the Department of Health and Human Services, and the International Agency for Research on Cancer have long said - that all forms of asbestos are carcinogenic and are capable of causing malignant mesothelioma and other types of cancer," says Alex Strauss, Managing Editor for Surviving Mesothelioma.
To read the details of the new study on chrysotile asbestos and mesothelioma, see Mesothelioma Report Shows All Types of Asbestos Can Be Lethal, now available on the Surviving Mesothelioma website.
Kradin, RL, et al, "Diffuse peritoneal mesothelioma: A case series of 62 patients including paraoccupational exposures to chrysotile asbestos", September 22, 2017, American Journal of Industrial Medicine, Epub ahead of print, http://onlinelibrary.wiley.com/doi/10.1002/ajim.22768/full
For more than a decade, Surviving Mesothelioma has brought readers the most important and ground-breaking news on the causes, diagnosis and treatment of mesothelioma. All Surviving Mesothelioma news is gathered and reported directly from the peer-reviewed medical literature. Written for patients and their loved ones, Surviving Mesothelioma news helps families make more informed decisions.
Share article on social media or email: