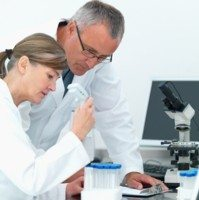 Multivariate analysis confirmed PCFT's independent prognostic role.
Raleigh, NC (PRWEB) October 02, 2017
Mesothelioma researchers in The Netherlands believe that a newly-identified mesothelioma biomarker could be used to help make chemotherapy more effective. Surviving Mesothelioma has just posted an article with all the details of the new study. Click here to read it now.
The biomarker is a cellular transporter molecule called proton-coupled folate transporter (PCFT). Doctors at VA University Medical Center tested for it in tissue samples from mesothelioma patients treated with pemetrexed chemotherapy.
"Multivariate analysis confirmed PCFT's independent prognostic role," writes cancer researcher and lead author, Elisa Giovannetti. "Low PCFT protein levels were also associated with shorter overall survival."
According to the report in the Annals of Oncology, mesothelioma patients with the lowest PCFT levels were less likely to respond to the primary mesothelioma chemotherapy drug, pemetrexed (Alimta).
"The link between PCFT levels and chemotherapy response is critical because, even though pemetrexed is considered the gold standard for mesothelioma treatment, it is only moderately effective in the treatment of this devastating cancer," says Alex Strauss, Managing Editor for Surviving Mesothelioma.
For a better understanding of the role of PCFT in pemetrexed resistance and mesothelioma survival, see New Biomarker Could Help Eradicate Mesothelioma Resistance to Chemotherapy, now available on the Surviving Mesothelioma website.
Giovannetti, E, et al, "Role of proton-coupled folate transporter in pemetrexed-resistance of mesothelioma: clinical evidence and new pharmacological tools", September 1, 2017, Annals of Oncology, Epub ahead of print, https://academic.oup.com/annonc/article-abstract/doi/10.1093/annonc/mdx499/4101657/
For more than a decade, Surviving Mesothelioma has brought readers the most important and ground-breaking news on the causes, diagnosis and treatment of mesothelioma. All Surviving Mesothelioma news is gathered and reported directly from the peer-reviewed medical literature. Written for patients and their loved ones, Surviving Mesothelioma news helps families make more informed decisions.
Share article on social media or email: