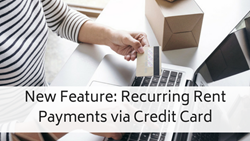 Nathan Miller, president of Rentec Direct says "...We have had many requests from clients to extend the rent payment options for tenants, so our team has developed and launched this new feature."
GRANTS PASS, Ore. (PRWEB) August 07, 2018
Rentec Direct, an industry leader in property management software solutions, has rolled out new features for its Tenant Portal. The upgrades give landlords the ability to offer tenants more ways to pay rent online, including options to create recurring credit card payments and save multiple payment options.
"When we determine upgrades and new releases for our platform, we take many things into consideration including direct client feedback," said Nathan Miller, president of Rentec Direct. "This is one of those cases - we have had many requests from clients to extend the rent payment options for tenants, so our team has developed and launched this new feature."
The upgrades to the Tenant Portal, the company's interface for renters using the Rentec Direct system, is focused on flexibility and more granular choices for users when it comes to paying rent. Tenants are now able to log into their account, add either checking accounts or credit card accounts, and then use those saved accounts to schedule one-time or recurring payments.
Specifically, the new features make it possible for tenants to:
Enter two or more bank accounts, and make partial rent payments from each.
Add one or more credit card payments, and make full or partial rent payments from their credit cards.
Select either a bank account (ACH/eCheck) or a credit/debit card to schedule their recurring rent payments.
Research shows that automatic payment systems like the offerings through the Rentec Direct Tenant Portal significantly decrease late fees, sometimes by nearly 25 percent. Landlords using the platform have the ability to implement this technology for their renters to allow flexible online rent payments.
To learn more about Rentec Direct's new online rent payment options visit https://www.rentecdirect.com/blog/recurring-credit-card-payments/
About Rentec Direct
Rentec Direct offers industry leading property management software and tenant screening solutions for real estate professionals. Features include online rent payments, tenant and owner portals, the industry's largest vacancy listing syndication network, full property, tenant, and owner accounting, 1099-MISC reporting, QuickBooks™ Sync and more. Rentec Direct was named to the 2017 Inc 5000 List of Fastest-Growing Private Companies and the 2017 Entreprenuer360 list for Best Entrepreneurial Companies in America. http://www.rentecdirect.com
###
Share article on social media or email: