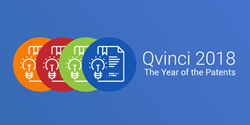 These patent awards highlight Qvinci's continued execution with excellence of its mission to develop and patent best-in-class, near real-time, cloud-based financial consolidation, data blending, automated reporting, business intelligence and workflow management solutions.
AUSTIN, Texas (PRWEB) December 19, 2018
In 2018 Qvinci® Software cemented its global leadership position for automated financial reporting, business intelligence, data blending, consolidation and workflow management solutions with the awarding of numerous U.S. and international patents. A summary of Qvinci's patent awards are as follows:
As William Murphy, Senior Editor of the Insightful Accountant said about the Qvinci solution, "How could you possibly not be jumping up and down screaming at the top of your lungs, 'I want it, I want it now!'" William Murphy also opined in a review of a new Qvinci product, built exclusively for Intuit's QBOA platform, that, "Qvinci Solo has hit a 'reporting home run' out of the ball park!"
Download the sample reporting package PDF
Qvinci's patented solutions are making a game-changing impact on accountants, franchises and multi-unit businesses who use QuickBooks® Online, QuickBooks Desktop, Xero® and Excel®
ACCOUNTANTS: Read how accountants attract and land new clients through differentiation, reduce time and cost to process client files, and create additional consulting opportunities: Volpe Consulting and Accounting Services
FRANCHISES: Learn how franchises automate financial data collection and consolidation while providing franchisees with easy-to-understand, actionable reporting and business intelligence that improves operational efficiencies and profitability: MaidPro
MULTI-UNITS: Discover how multi-unit organizations, including diocese and other non-profits, identify areas for operational improvement on both a consolidated and unit-level basis by analyzing business intelligence including KPI's, peer benchmarking, entity comparisons and more: Diocese of Syracuse
Qvinci Introduces its new Customizable Charts and Graphs Builder
Qvinci will release in January 2019 its new Custom Charts & Graphs Builder that allows users to easily custom design and build charts and graphs with the data from their reports, KPIs and other business intelligence. Like Qvinci's other reports, once these custom charts and graphs are built, they are templated and can be used forever without needing to recreate them each time the data is reported. The reporting packages can include financials, benchmarking, peer forecasting, budget vs. actual, and numerous analytical and forecasting results, available in both report and charts and graphs form or any combination thereof.
According to company founder and inventor Charles Nagel, "imagine all your single or multi-unit clients or entities within your organization having templated reports in near real-time with all the essential financials, KPIs and business intelligence delivered in one easy-to-understand report package. Set up is simple, impact is immediate."
According to Qvinci CEO Brad Adams, "these patent awards highlight Qvinci's continued execution with excellence of its mission to develop and patent best-in-class, near real-time, cloud-based financial consolidation, data blending, automated reporting, business intelligence and workflow management solutions for the accounting, franchise and multi-unit business markets. "Aggressive and purposeful patent procurement and protection will be one of Qvinci's major 2019 initiatives."
Speak to Customer Success
Register for a Webinar
Schedule a Demo or Discussion
Share article on social media or email: