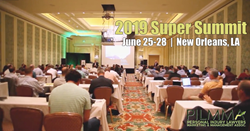 "We want to connect female law firm owners with successful attorneys that have been in their shoes, so they can avoid the same mistakes and take their practices to the next level," Ken Hardison said.
NEW ORLEANS (PRWEB) December 28, 2018
In response to the ever-changing legal landscape, the Personal Injury Lawyers' Marketing & Management Association's (PILMMA) 2019 Super Summit will include its first ever Women's Entrepreneur Symposium.
Successful female PILMMA members from across the country will take the podium to share their own journeys to success as well as personal strategies and tactics specially designed to empower women lawyers to become entrepreneurs.
Additionally, in an effort to help attendees stay abreast of the very latest in marketing and management, PILMMA has carefully selected over 40 leading companies specializing in all facets of law firm marketing, management, and social media that will be available to speak individually with attendees regarding the latest opportunities in legal products and services.
PILMMA's 2019 Super Summit will be held June 25-28, 2019 at the Ritz Carlton Hotel in the heart of New Orleans.
This year's Summit promises to be the most informative event in PILMMA's history. In addition to the Women's Entrepreneur Symposium, the attendees will hear from a line-up of seasoned attorneys who have built highly successful law practices across the country as well as industry leaders in social media, marketing, ​and management. All presenters will share best-kept secrets and strategies designed to help attendees take their law firms to the next level of success.
First Time Attendees are also invited to special presentations led by Attorney/PILMMA President Ken Hardison, including the Ultimate Beginners Primer on Law Firm Marketing and Management. These presentations cover a vast array of topics, such as learning to differentiate your firm from the competition, creating both ads and copy that convert prospects, designing winning website pages that actually convert clients, and much more.
Seating for this exciting event is limited and anticipated to sell out quickly. Interested attorneys should visit the event website at: 2019 Legal Marketing and Management Super Summit.
Get more details about how PILMMA helped one female entrepreneur transform her law firm in little time: Melissa Emery, Noob to Bad @ss Law Firm Owner.
Share article on social media or email: