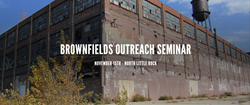 Little Rock, Arkansas (PRWEB) October 24, 2017
The Pulaski County Community Services (PCCS) Brownfields program and Harbor Environmental and Safety (Harbor) is holding a half-day Brownfields outreach seminar at the North Little Rock Chamber of Commerce at 100 Main St. in North Little Rock on Wednesday, Nov. 15 from 7:30 am to noon.
The seminar will cover topics including Brownfields funding, re-development challenges, and community engagement. Terry Sligh of the Arkansas Department of Environmental Quality Brownfields program will be on hand to discuss Brownfields from a state perspective. Ben Goodwin of Our House, a non-profit dedicated to helping homeless women and children, will share his experiences with Brownfields redevelopment of the former Little Rock Veterans Administration (VA) Hospital. Erik Swindle, formerly of Heifer International, will also share his experiences of redeveloping a Brownfields site into the headquarters of Heifer International. Visit Harbor's website for registration details at http://www.harborenv.com or call 501-663-8800.
The PCCS Brownfields Program is federally funded through U.S. Environmental Protection Agency (EPA) grants to identify and assess potentially contaminated properties and to assist with any possible clean up required to make a property viable. According to PCCS Brownfields Program Administrator, Josh Fout, the program was established to loan/sub-grant clean-up money to qualified prospective property buyers and adheres to the principles of promoting economic development, protecting the environment and building a better community. Fout indicated that Pulaski County has strategically leveraged over $38 million dollars from $3 million in grant dollars; used assessment grants to confirm 19 brownfield sites for potential redevelopment throughout Pulaski County; and has been critical in redeveloping sites in downtown Little Rock and North Little Rock with environmental issues. Harbor recently became the Program Manager for the Brownfields program, assisting Fout with program implementation.
Harbor Environmental and Safety is a full service environmental, safety and engineering consulting firm headquartered in Little Rock. Harbor is a certified woman-owned and certified disadvantaged business enterprise that has served clients both nationally and internationally. Specializing in turnkey compliance management systems, Harbor affords our clients the ability to focus on their business goals and maintain a commitment to the environment and the health and safety of their employees.
Share article on social media or email: