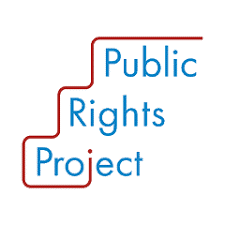 Citizens across the country this week voted in reform-minded local prosecutors, part of a growing national movement to tackle corporate abuse to promote public safety and community well-being - Jill Habig, founder and president of Public Rights Project
OAKLAND, Calif. (PRWEB) November 08, 2019
Today Public Rights Project released a new guide for district attorneys – those elected this week as well as those in office for many years – outlining how to crack down on corporate crimes that are hurting so many Americans. The guide explores tools prosecutors already have to support and protect vulnerable people.
The resource, called "Growing An Equitable Enforcement Practice: A Guide for Local Prosecutors To Fight Corporate Abuse," provides examples and practical steps for district attorneys who want to use their power to protect vulnerable communities and combat corporate lawlessness. It includes best practices on how to work with community-based organizations, how to engage in public education and policy advocacy, and more.
"Citizens across the country this week voted to elect reform-minded local prosecutors," said Jill Habig, founder and president of Public Rights Project. "They are part of a growing movement of prosecutors across the country who understand that tackling corporate abuse is an essential part of promoting public safety and community well-being. We are thrilled at this opportunity for them to make an impact on corporate wrongdoers who have destabilized our communities, like opioid manufacturers and predatory lenders."
Local prosecutors are charged with ensuring public safety and promoting the health and well-being of their communities. However, many people think the tools available to prosecutors to advance public safety are limited to cracking down on violent crimes, drugs, property theft and other offenses. People are less familiar with how local prosecutors can address illegal acts by businesses that harm workers, tenants and consumers.
One prosecutor who is setting an example with her work to reform the criminal justice system by fighting corporate abuse like notario fraud over prosecuting low-level, non-violent criminal offenses, is Kim Foxx, State's Attorney for Cook County, Ill. "Our office is committed to protecting our most vulnerable residents through our work as we strive to create healthy and thriving communities," said Foxx. "As recent efforts by the current federal government seek to undermine basic civil rights of citizens nationwide, it's crucial that more local prosecutors utilize their authority to stand up for our communities."
Public Rights Project commissioned a national survey on corporate abuse that showed that 54 percent of those surveyed identified as having experienced one or more instances of corporate abuse in the last 10 years, including wage theft, predatory lending, predatory debt collection, unsafe rental housing conditions, or health problems due to pollution created by a business. These civil and criminal violations can often be the root cause of, or aggravate, public safety and public health concerns. Public Rights Project's survey showed a strong connection between corporate and personal victimization – people who experienced corporate abuse were four and a half times more likely to identify as victims of violent crime and three times more likely to identify as victims of non-violent crime than people who had not experienced corporate abuse.
"Reform-minded prosecutors are rightly concerned about the current inequities that plague our criminal justice system," said LiJia Gong, Interim Legal Director of Public Rights Project. "Public Rights Project believes that, by ensuring that children are not exposed to lead, that consumers have access to a fair marketplace, and that workers are paid for all the work that they have done, district attorneys can address some of the root causes of involvement in the criminal justice system."
The guide points to examples like the Manhattan District Attorney's prosecution of one of New York's largest construction companies. The district attorney brought larceny charges, because over the course of three years, the construction company allegedly stole more than $1.7 million in wages from over 500 low-wage workers engaged in the dangerous work of building multi-million dollar luxury condominiums. The cheated workers were especially vulnerable to the company's scheme because many of them were undocumented immigrants, who often do not pursue claims due to intimidation, harassment, or fear of retaliation.
With more than 2,300 local prosecutors offices across the country, district attorneys can leverage their authority and resources to address corporate abuse and help to tip the scales in favor of ordinary people and vulnerable communities. In so doing, local prosecutors can restore trust in their offices and contribute to making all of our communities safer.
About Public Rights Project
Public Rights Project is a national organization that bridges the gap between the laws on the books, what's happening on the ground and the lack of investment and commitment by the current Federal administration on civil rights. PRP leverages untapped opportunities in state and local law offices, including City Attorneys, District Attorneys, and Attorneys General and provides critical start up capital to help these offices increase capacity and enforcement.
For more information:
Web: https://www.publicrightsproject.org/ - Enforcement Gap Report can be found here
Facebook: https://www.facebook.com/PublicRightsProject/ Instagram: #publicrightsproject
Twitter: @public_rights
Tell Your Story at: #enforceequity
Media Contacts:
Debbie Mesloh, debmesloh@gmail.com, 415-867-2243
Rachel Tobin, rachel_tobin@outlook.com, 404-276-5930
Share article on social media or email: