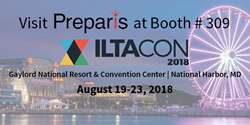 "At the conference, we will demonstrate new functionality to ensure employee safety, maintain business continuity, and mitigate business risk when critical events occur." -Charles Pearson, CEO at Preparis
ATLANTA (PRWEB) July 30, 2018
Emergency messaging and incident management software and services provider, Preparis, announced today they will be exhibiting at the International Legal Technology Association Conference (ILTACON) in National Harbor, MD from August 19-23.
ILTACON is the premier educational and networking event for the legal sector. At the conference, Preparis will demonstrate and share their expertise in the areas of business continuity, incident management, and organizational compliance for the legal industry.
"Law firms are under constant pressure to effectively manage business disruptions, surpass client and regulatory audits and protect sensitive client data from cyber-attacks," said Charles Pearson, CEO at Preparis. "At the conference, we will demonstrate new functionality to ensure employee safety, maintain business continuity, and mitigate business risk when critical events occur."
Visit Preparis at booth #309 to see how law firms can protect employees during disruptive incidents with emergency messaging, training courses, online document storage, and more. For more information on Preparis' software offerings for the legal sector, visit http://www.preparis.com/legal/.
To schedule an appointment at the ILTACON conference, click here http://www.preparis.com/request-demo/.
ABOUT PREPARIS
Preparis is an all-in-one life safety and emergency notification solution that helps businesses protect their people, operations and brand while meeting regulatory requirements. The company's unique combination of technology and services makes creating and maintaining life safety and emergency preparedness programs easy. For more information about Preparis, please visit http://www.preparis.com or call (855) 447-3750.
Share article on social media or email: