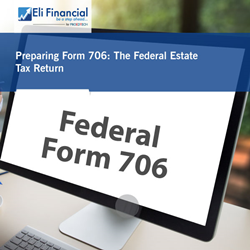 Understand the intricacies of a federal estate tax return, and learn how to file the IRS Form 706 correctly in 2019
DURHAM, N.C. (PRWEB) January 10, 2019
Eli Financial, a division of audio conference and corporate education leader ProEdTech, will host a 240-minute webinar titled "Preparing Form 706: The Federal Estate Tax Return" by Arthur Werner on January 25, 2019 at 1:00 pm ET.
Many tax practitioners lack experience with IRS Form 706, the Estate (and Generation-Skipping Transfer) Tax Return—and the many nuanced criteria to filing a 706 make it even more complicated. Though the IRS requires only certain estates to file Form 706, there are a situations where a timely 706 is required from the estates that otherwise do not qualify.
Time to get acquainted with this complicate form: In this webinar, taxation expert Arthur Werner will walk attendees through the intricacies of preparing a federal estate tax return accurately, explain how to comply with portability, and discuss the various postmortem estate planning issues involved in the preparation of the IRS Form 706.
After attending this session, attendees will clearly understand estate and gift taxation, and gain the expertise and confidence they need to accurately prepare the IRS Form 706 for their clients.
Session Highlights
This in-depth webinar on IRS Form 706 will show attendees:
    How to prepare a federal estate tax return (form 706)
    How to comply with "Portability"
    Various postmortem estate planning issues involved in the preparation of form 706
    The ins and outs of estate and gift taxation
Who Should Attend
This instructive session is designed especially for certified public accountants (CPAs), enrolled agents (EAs), tax attorneys and tax preparers—as well as financial planners, finance and accounting professionals, personnel in accounting/taxation/law firms, and small business owners.
For more information on IRS Form 706 and the Federal Estate Tax Return, visit: https://www.elifinancial.com/taxation/prepare-federal-form-706
Get 25% off on our webinars. Use Code PRWEB25 on checkout.
About ProEdTech
ProEdTech is a leading source of knowledge and training for professionals in over 15 industries, serving individuals, businesses and their employees around the globe. It offers webinars, online conferences, seminars, boot camps, books, DVDs, white papers, industry reports and other learning tools from industry experts and insiders who provide a fresh perspective on key issues, trends and regulations in order to simplify governance, risk and compliance (GRC) for enterprises and industry professionals. ProEdTech's AudioEducator webinars offer updates, regulatory knowledge and information on the latest news in various medical specialties, as well as coding and billing updates, and analysis of regulations that affect ambulatory surgical centers, home health, long term care and hospice facilities, hospitals and healthcare systems, health insurers and physician practices. ProEdTech's Eli Financial platform offers tax and banking professionals, focusing on providing high-quality online training products customized for U.S. lenders and tax practitioners that include the latest updates from the IRS, CFPB and other regulatory authorities. Webinars are also offered through AudioSolutionz in the technology, human resources, construction and housing, ICT and telecom, manufacturing, consumer packaged goods and retail, safety and security, transportation, energy and environment, education, trade, and chemicals industries. ProEdTech regularly provides professionals the opportunity to get answers to their most complex questions directly from experts, without having to attend costly live conferences. To learn more, visit: http://www.proedtech.com/.
Share article on social media or email: