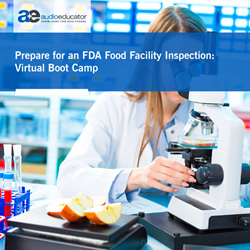 Every year, millions of Americans get sick—and some even die—because of foodborne diseases, according to the Centers for Disease Control and Prevention.
DURHAM, N.C. (PRWEB) June 13, 2018
AudioEducator, a division of audio conference and corporate education leader ProEdTech, will host a live boot camp titled "Prepare for an FDA Food Facility Inspection: Virtual Boot Camp", with regulatory compliance expert Angela Bazigos on Tuesday, June 19, 2018 at 12:00 pm ET.
Every year, millions of Americans get sick—and some even die—because of foodborne diseases, according to the Centers for Disease Control and Prevention. And thanks to the Food Safety Modernization Act, the Food and Drug Administration (FDA) is out to curb this largely preventable problem. Food producers should therefore expect—and prepare for—scrutinizing FDA inspections.
This 180-minute Virtual Boot Camp with regulatory compliance expert Angela Bazigos will explain food safety and the FDA's inspection process in detail. Bazigos will cover the FDA's oversight program and provide insights on how to comply with the agency's laws and regulations. She'll also provide instruction on what to do when problems emerge. Plus, she will provide an insider's take on how to ace an FDA inspection by following the very checklist the agency uses to spot any deficiencies.
Participants will understand the basics of food safety, the FDA inspection process, common problems areas, and special considerations for foreign facilities. They will learn how to prepare for an FDA inspection, handle any citations issued, and how to prevent future tickets from being written.
This soup-to-nuts regulatory compliance boot camp will benefit all professionals in the food industry – such as FDA food inspectors, safety officers, microbiologists, and anyone in food manufacturing.
Session 1: Introduction and FDA Food Inspection Basics
Length: 60 minutes | Time: 12:00 PM EST to 01:00 PM EST
Session Highlights:
Food safety basics
Consumer survey on food safety
Food inspection basics
Food inspection goals
Communication with the food facility before, during, and after inspection
How the inspection is conducted
Session 2: How to Prepare for Food Inspection & Use the FDA Approved Checklist
Length: 60 minutes | Time: 01:10 PM EST to 02:10 PM EST
Session Highlights:
How to prepare for a successful food facility inspection: rodents, birds, insects, bacteria, parasites, molds, and chemical contaminants
The FDA-approved food inspection checklist and how to use it
Break Time: 02:10 PM EST - 02:20 PM | Duration: 10 minutes
Session 3: Foreign Food Facility Inspection Program & Future Trends
Length: 60 minutes | Time: 02:20 PM to 03:20 PM EST
Session Highlights:
Foreign Food Facility Inspection Program: selecting foreign food facilities for inspection and notification of foreign embassies and competent authorities
Future trends in food facility inspections
How to respond to any inspection citations and how to prevent future ones
For more information and to register, visit: https://www.audioeducator.com/virtualbootcamp/survive-an-fda-food-facility-inspection.
Get $50 off on our conferences and webinars. Use Code PRWEB50 on checkout (applicable for all purchases).
About ProEdTech
ProEdTech is a leading source of knowledge and training for professionals in over 15 industries, serving individuals, businesses and their employees around the globe. It offers webinars, online conferences, seminars, boot camps, books, DVDs, white papers, industry reports and other learning tools from industry experts and insiders who provide a fresh perspective on key issues, trends and regulations in order to simplify governance, risk and compliance (GRC) for enterprises and industry professionals.
ProEdTech's AudioEducator webinars offer updates, regulatory knowledge and information on the latest news in various medical specialties, as well as coding and billing updates, and analysis of regulations that affect ambulatory surgical centers, home health, long term care and hospice facilities, hospitals and healthcare systems, health insurers and physician practices. Webinars are also offered through AudioSolutionz in the technology, human resources, construction and housing, ICT and telecom, manufacturing, consumer packaged goods and retail, safety and security, transportation, energy and environment, education, trade, and chemicals industries. ProEdTech's Eli Financial platform offers tax and banking professionals, focusing on providing high-quality online training products customized for U.S. lenders and tax practitioners that include the latest updates from the IRS, CFPB and other regulatory authorities. Lawyers across the United States depend on Eli CLE for top quality online continuing legal education (CLE) programs, which can be completed for MCLE credits.
ProEdTech regularly provides professionals the opportunity to get answers to their most complex questions directly from experts, without having to attend costly live conferences. To learn more, visit: https://proedtech.com/.
Share article on social media or email: