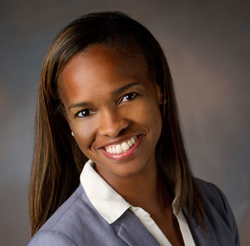 "I'm so grateful for the professors I had at Liberty. I plan to not only teach law but to invest in my students the same way my professors invested in me," Thompson stated
SALEM, Va. (PRWEB) February 21, 2019
Salem based immigration and adoption attorney Rachel Thompson has returned to her alma mater as an adjunct professor for Liberty University School of Law. She is teaching Adoption Law at the same program where she earned her own law degree in 2012.
Thompson brings extensive experience as an Immigration and Adoption Lawyer to her new position. She continues practicing full time with Poarch Law in Salem, Virginia where she has been since 2013.
Thompson specializes in removal and deportation cases and has been featured as a Federal Bar Association National speaker. Thompson's work as an attorney has earned her much praise both personally and professionally. In 2016 Thompson earned the Alison Parker Young Professional award from DePaul Community Services and, in 2018 the Federal Bar Association presented her with the Immigration Law Section Young Lawyer of the Year award.
The daughter of immigrants, Thompson is passionate about her area of practice and hopes to make an impactful difference in the minds and careers of her new law students.
"It means so much to be able to teach at a place that has taught me so much," Thompson stated. "I'm so grateful for the professors I had at Liberty. I plan to not only teach law but to invest in my students the same way my professors invested in me."
Liberty University lies in the foothills of the Blue Ridge Mountains in Lynchburg, Virginia and is within a few hours of Washington, D.C and Charlotte, N.C. Its rigorous legal skills program is taught from a Christian worldview, which not only prepares students with the core competency skills needed to practice law but also how to integrate faith and reason into their choice of law practice. They are approved by the Council of the Section of Legal Education and Admissions to the Bar of the American Bar Association (ABA).
About Poarch Law
Poarch Law was founded in 2003 to focus on advocacy and protection of Southwestern Virginia's diverse immigrant community. The firm now consists of five dedicated attorneys that specialize solely in Immigration and Adoption law services for both individuals and companies. More information about Poarch Law is available at http://poarchlaw.com/.
Share article on social media or email: