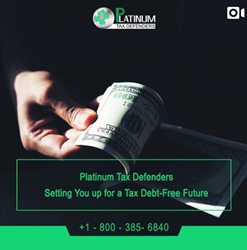 LOS ANGELES (PRWEB) June 18, 2019
This month, the IRS will start using private companies to collect unpaid taxes from businesses. According to a news article in Bloomberg Tax from May 23, 2019 ("IRS to Start Using Private Companies to Collect From Businesses"), the IRS plans to refer 200 business cases per week initially. As part of the private debt collection program, companies can collect unpaid taxes on behalf of the government.
The article went on to state that the IRS will monitor how the companies are handling the new referrals for several weeks. The IRS will ensure that all protocols are working correctly before referring more accounts. This new program follows a previously released program by the IRS that allowed private debt collectors to collect taxes from individual accounts. For businesses, private debt collectors will be primarily going after unpaid employment taxes, which are taxes that employers withhold from their employees. Employers are legally responsible for collecting employment taxes and paying them to the IRS.
For businesses whose accounts are in jeopardy of being sent to private debt collectors, there are tax resolution options available. Platinum Tax Defenders offers debt relief services for individuals and businesses and shares the following tax resolution options available for businesses. Because there are many factors involved in business taxes, it's challenging to determine which tax resolution strategy works best without speaking with a tax resolution professional.
Installment Agreements
For businesses who cannot pay their tax debt in one lump sum, they can apply for an Installment Agreement with the IRS. With an Installment Agreement, a tax resolution professional would negotiate a monthly payment with the IRS on behalf of the business. This option allows the company to pay back their debts in monthly installments, typically over 72 months.
Offer in Compromise
For businesses with minimal assets and income, they may qualify for the IRS' Offer in Compromise program. With the Offer in Compromise program, companies can settle for less than they owe.
Request Currently not Collectible Status
If your business is really in jeopardy, you can attempt to apply for Currently not Collectible status with the IRS. If the IRS agrees, they will leave you be for approximately a year. While you will still owe taxes and penalties, the IRS will not engage in any collections against you while you're deemed Currently not Collectible.
Filing For Bankruptcy
While this is a last resort, it may be an option for some businesses. Before considering filing for bankruptcy, it's essential to consult a Los Angeles tax attorney. There are downsides to applying for bankruptcy, and companies should be aware of them before they file.
According to the Bloomberg article, the first 200-per-week business cases will be split evenly between four private debt collection agencies. For companies who are receiving communication from private debt collection agencies, it's advisable to consult a tax resolution professional before you act.
About Platinum Tax Defenders
Platinum Tax Defenders, a subsidiary of Cardiff Lexington Corporation, (Cardiff Lexington Corp (CDIX) ) has been helping individuals navigate their tax situations with the IRS since 2011. The top-rated tax firm's tax resolution service have saved thousands of businesses hundreds of thousands of dollars in tax debt. The expert team at Platinum Tax Defenders has experience working with entrepreneurs, individuals, and small businesses alike. Platinum Tax Defenders (http://www.platinumtaxdefenders.com) is a forward-thinking leader in the tax resolution industry. The expert tax relief team works with taxpayers who are struggling with small to large tax debts. Platinum Tax Defenders offers a wide variety of tax resolution, bookkeeping, and tax preparation services for individuals and businesses.
If private debt collectors are contacting your company, contact Top Tax Defenders today for a free consultation 1-800-385-6840
Share article on social media or email: