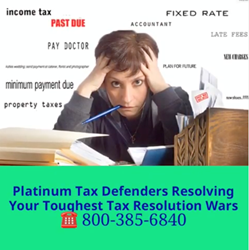 Past News Releases
LOS ANGELES (PRWEB) July 22, 2019
Platinum Tax Defenders has been providing clients and business owners alike with tax resolution services since 2001. Thousands of clients have benefitted from the work of Platinum Tax Defenders, with many having successfully gotten their debt lowered from over $100,000 to less than $150. As Platinum Tax Defenders expands with new offices in Long Beach, CA and Pompano Beach, FL, the tax relief company continues to grow its work helping small businesses with their tax resolution needs.
"We understand the need for business owners to have the freedom to focus on what's important – growing their business," says Sherri Gastelum, CEO of Platinum Tax Defenders. "Our team of Los Angeles tax attorneys and CPAs can handle all tax matters for entrepreneurs and small businesses, allowing them to get back to focusing on their business."
Tax relief is one of the principal factors of Platinum Tax Defenders. In recent years, Platinum Tax Defenders has focused on the financial sector and helping business owners with their tax matters. Platinum Tax Defenders understands that small business owner have a lot on their minds. However, taxes also continue to be a big concern for small businesses, especially with new federal, state, and local tax rules every year. For that reason, Platinum Tax Defenders continues to expand its focus on helping businesses with their tax matters. Many tax benefits come along with being a business owner. The majority of business owners likely aren't aware of all of the benefits available to them when tax season comes around.
The tax attorneys at Platinum Tax Defenders can help you determine the best structure for your small business. If your business is new or in the middle of reorganization, tax attorneys can help you with structure. Deciding which business structure to use may be confusing. It's possible business owners don't even know what their options are. However, tax attorneys know what business structures may be available. Tax attorneys will also know what business structure will work in the company's best interest. Some of the most common business structure choices include:
     LLC
    Corporation
    Multiple-owner business
    Single-owner business
The business structure a company chooses should reflect its function and design. A company's chosen structure should also strategically work to the business owner's advantage when it comes to filing and paying back taxes. A tax attorney can set up your business so that it sets you up for a positive financial future.
Platinum Tax Defenders understands that no two taxpayers are the same, and that's how they run their business. Should you be interested in learning about opportunities to partner with top tax defenders to make a difference, contact (800) 385-6840.
About Platinum Tax Defenders
Platinum Tax Defenders, a subsidiary of Cardiff Lexington Corporation, (Cardiff Lexington Corp (CDIX) ) has been helping individuals navigate their tax situations with the IRS since 2011. The top-rated tax firm's tax resolution services have saved thousands of clients hundreds of thousands of dollars in tax debt. The expert team at Platinum Tax Defenders has experience working with entrepreneurs, individuals, and small businesses alike. Platinum Tax Defenders (http://www.platinumtaxdefenders.com) is a forward-thinking leader in the tax resolution industry. The expert tax relief team works with taxpayers who are struggling with small to large tax debts. Platinum Tax Defenders offers a wide variety of tax relief services, help file back taxes, wage garnishment release, bank levy release, bookkeeping, and tax preparation services for individuals and businesses.
Share article on social media or email: