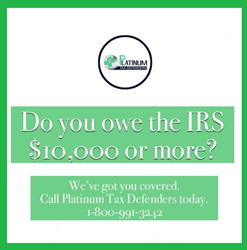 Past News Releases
LOS ANGELES (PRWEB) July 15, 2019
A clause in the Affordable Care Act makes it possible for some taxpayers to receive government assistance when paying their health insurance premiums. However, this interim savings could end up costing taxpayers big bucks when they go to file their tax returns. Platinum Tax Defenders, one of the top tax resolution services in the country, shares tips on how this subsidy works and how to avoid owing more than you bargained for on next year's taxes.
What is the Health Insurance Subsidy?
The Affordable Care Act (also known as Obamacare) made subsidies available to help qualifying Americans pay their health insurance premiums. These subsidies work on a sliding scale, meaning what you're personally required to contribute is based on a fixed percentage of your annual income. However, the government bases the subsidy on only an estimate of your income for the year in which you receive the subsidy. If a taxpayer's estimate matches what they make, they won't have a problem on Tax Day. However, should a taxpayer receive a raise, bonus, or if their income varies from year to year, it's possible to underestimate their income. If a taxpayer underestimates his or her income, they'll end up with a more substantial health insurance subsidy than to which they're entitled.
Collecting the Health Insurance Subsidy Early Is Risky
While the health insurance subsidy is typically credited to the taxpayer after the year is over, some taxpayers choose to receive the allowance early, also known as the advance payment option. Many taxpayers need the subsidy to pay their monthly insurance premiums, so it becomes necessary for them to have the allowance in their hands early. The advance payment option helps taxpayers afford health insurance immediately. However, there are downsides to the advance payment option. If a taxpayer underestimates their income on their subsidiary application, they could risk receiving an entire year's subsidy based on an incorrect income estimate. If a taxpayer gets more than they should in an insurance subsidy, they'll more than likely have to pay it back.
When a taxpayer may need to repay the health insurance subsidy
During the reconciliation part of taxes – when you compare the amount of subsidy the government paid your health insurance company to the amount it should have paid based on your actual income – you'll have to reconcile the two figures if they're different. If you overestimated your annual income, the subsidy the government paid would be lower, and the difference would, therefore, be added to your tax refund or decrease the amount of taxes you owe. However, if you underestimated your income for the year, you'll have to pay back the excess when you file your taxes. Additionally, if your income is even a dollar above the limit to receive the tax credit, you'll be held liable to pay back the entire subsidy amount, which could be thousands of dollars.
Avoid paying back subsidies and work with a tax professional
Working with a tax professional to prepare your taxes ahead of Tax Day can help prevent you from paying back potentially thousands of dollars from your health insurance subsidy. There is a cap for how much the IRS can demand you pay back, and a tax professional, like the ones at Platinum Tax Defenders, will know what that cutoff is. Additionally, a tax specialist at Platinum Tax Defenders can help you modify other parts of your tax returns that might help you avoid repaying your premium subsidy. For example, contributing to your IRA may help you avoid paying back a large amount of your allowance.
About Platinum Tax Defenders
Platinum Tax Defenders, a subsidiary of Cardiff Lexington Corporation, (Cardiff Lexington Corp (CDIX) ) has been helping individuals navigate their tax situations with the IRS since 2011. The top-rated tax firm's tax resolution services have saved thousands of clients hundreds of thousands of dollars in tax debt. The expert team at Platinum Tax Defenders has experience working with entrepreneurs, individuals, and small businesses alike. Platinum Tax Defenders (http://www.platinumtaxdefenders.com) is a forward-thinking leader in the tax resolution industry. The expert tax relief team works with taxpayers who are struggling with small to large tax debts. Platinum Tax Defenders offers a wide variety of tax resolution to help settle back taxes, bookkeeping, and tax preparation services for individuals and businesses.
For questions and more information regarding how the health insurance subsidy could affect your next tax season, file back tax es or get tax resolution help contact the specialists at Top Tax Defenders at 1-800-385-6840
Share article on social media or email: