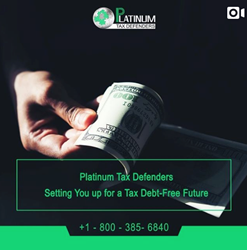 Past News Releases
LOS ANGELES (PRWEB) July 17, 2019
Platinum Tax Defenders, one of the top-rated tax resolution firms in the United States, recently expanded to open two new offices in the U.S. With its headquarters in Simi Valley, CA, Platinum Tax Defenders now has tax relief experts working in Long Beach, CA, and Pompano Beach, FL. The opening of these two new offices provides Platinum Tax Defenders the opportunity to help even more U.S. taxpayers settle their back-tax issues.
"We are so thrilled to expand our team and open offices in Long Beach, CA, and Pompano Beach, FL," says Sherri Gastelum, CEO of Platinum Tax Defenders. "In today's economy, we understand how owing tax debt s to the IRS can put U.S. taxpayers in a financial situation that's detrimental to them and their families. With more support from our staff in our new offices, we hope to provide even more taxpayers with tax relief."
Platinum Tax Defenders has been helping taxpayers across the country resolve their tax debts with the IRS since 2011. The company has collectively helped thousands of clients save hundreds of thousands of dollars. Working with an experienced and dedicated team of CPAs, enrolled agents, Los Angeles tax attorneys, and ex-IRS agents affords Platinum Tax Defenders the ability to deliver the best possible outcome for their clients. For investors seeking opportunities to empower a company that is, in turn, enabling the average U.S. taxpayer to live a better, more financially secure life, Platinum Tax Defenders is the ideal partner. The company has experience in all tax resolution programs offered by the IRS, including those which specifically help taxpayers who cannot, and likely will not ever be able to, afford to pay back taxes.
One of the highlights of the year for Platinum Tax Defenders to date was the success they experienced in getting a client's tax debt down from over $140,000 to just $100 through effectively negotiating an Offer in Compromise deal with the IRS. It's a fact that the IRS does not easily grant Offer in Compromise deals to taxpayers who cannot afford to pay back taxes. However, the experienced team at Platinum Tax Defenders is so intimately familiar with the ins and outs of the IRS that they were able to negotiate this deal on their client's behalf successfully.
Also, to help with tax relief, Platinum Tax Defenders provides full-service tax assistance to individuals, entrepreneurs, and business owners alike. The company's goal is to prevent U.S. taxpayers from getting into financial trouble with the IRS. They ensure their clients are as prepared as possible for tax season by treating each case individually. Platinum Tax Defenders understands that no two taxpayers are the same, and that's how they run their business. Should you be interested in learning about opportunities to partner with Platinum Tax Defenders to make a difference, contact (800) 385-6840.
About Platinum Tax Defenders
Platinum Tax Defenders, a subsidiary of Cardiff Lexington Corporation, (Cardiff Lexington Corp (CDIX) ) has been helping individuals navigate their tax situations with the IRS since 2011. The top tax defenders's tax resolution services have saved thousands of clients hundreds of thousands of dollars in tax debt. The expert team at Platinum Tax Defenders has experience working with entrepreneurs, individuals, and small businesses alike. Platinum Tax Defenders (http://www.platinumtaxdefenders.com) is a forward-thinking leader in the tax resolution industry. The expert tax relief team works with taxpayers who are struggling with small to large tax debts. Platinum Tax Defenders offers a wide variety of tax resolution to settle back taxes, bank levy releases, bookkeeping, offshore bank accounts and tax preparation services for individuals and businesses visit out website at http://platinumtaxdefenders.com or call 1-800-385-6840.
Share article on social media or email: