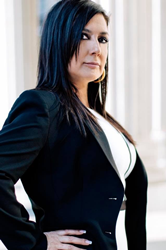 PLANO, Texas (PRWEB) July 11, 2019
The Elite Lawyer rating service recognizes attorneys who display a high level of competence in their practice and receive an acknowledgment from their peers, community, bar, and committees. The Elite Lawyer Award assures each attorney chosen for the directory has been nominated by their peers for excellence in the practice of law. The honor is only given to lawyers who have met or exceeded the criteria of a rigorous, multi-phased selection process. It recognizes top-rated attorneys for their outstanding service in their specific area or areas of practice.
Crowder has served Texas clients since 1999, after she received her Juris Doctor from the Texas Wesleyan School of Law, and previously, her undergraduate degree from Texas Woman's University. During Crowder's accomplished legal career, she has provided representation for hundreds of clients and won more than 200 acquittals. She also serves as Associate Judge in the Probate Court of Collin County, where she presides over mental health hearings.
Crowder's various awards include the Texas Criminal Defense Lawyers Association Presidential Award, along with Super Lawyers recognition and its Rising Stars designation. She has been featured in numerous publications and TV shows, including Nancy Grace and The O'Reilly Factor. Her professional memberships include the Texas Criminal Defense Lawyers Association, Collin County Criminal Defense Lawyers Association, Collin County Criminal Bench Bar Foundation, Texas Bar Foundation, Dallas Criminal Defense Lawyers Association, Association of Trial Lawyers of America, American Bar Association, Trial Lawyers College, and the National Association of Criminal Defense Lawyers.
Designed to assist potential clients in choosing an experienced legal professional to address specific legal needs, the Elite Lawyer tools and resources provide information on distinguished attorneys throughout the United States. Only the most outstanding and experienced attorneys receive the Elite Lawyer Award, which separates recipients from their peers when consumers use the directory to search for an elite-level attorney in their area.
The Elite Lawyer Award speaks highly of how well each nominated attorney is perceived by their legal community. For more information about Elite Lawyer, or to become a member of the esteemed directory, visit https://www.elitelawyer.com.
About Crowder Law Firm PC
Attorney Darlina C. Crowder provides adept legal representation for clients charged with drug crimes, DWI, violent crimes, domestic violence, sex crimes, conspiracy, theft, and white-collar crimes. When you need a skilled defense attorney who will fight for the best possible outcome in your case, she is the one to have by your side. For a consultation, and to learn how Attorney Crowder and her two decades of experience can help you, visit https://www.crowdercriminalfirm.com or call 214-303-9600.
Share article on social media or email: