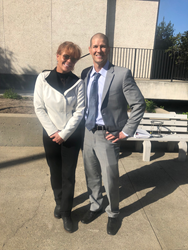 The jury awarded $425,000 for past pain and suffering and $1,500,000 for future pain and suffering.
MONTEREY, Calif. (PRWEB) May 17, 2018
On May 9th, 2018, a Monterey County jury returned a unanimous verdict awarding $1,925,000 to a woman who sustained a broken leg in a 2014 motorcycle crash in Moss Landing, California. The 51 year old woman, Laura Hambrook, sued her ex-boyfriend, 63 year old Jimmie Lafitte for her injuries. In the lawsuit, Hambrook claimed that she was a passenger on Lafitte's motorcycle and sustained a grade 3B open tibia and fibula fracture when Lafitte attempted to illegally pass vehicles on the shoulder of Highway 1. The lawsuit alleged that a car driven by a party named David Pierce, started a right turn into the driveway of an artichoke stand and then came into contact with the motorcycle which was proceeding south in the shoulder.
The crash occurred on July 20th, 2014 just south of Potrero Road. The lawsuit alleged that Hambrook was thrown from the motorcycle and air evacuated to a trauma center where she underwent emergent surgery. The lawsuit further alleged that Hambrook subsequently developed a persistent bone infection requiring multiple surgeries.
Lafitte claimed that he was not at fault and that the collision occurred in the parking lot of the artichoke stand where he was parking his motorcycle and that he was not passing on the shoulder of the road. Ms. Hambrook only claimed damages for pain and suffering at trial. The jury awarded $425,000 for past pain and suffering and $1,500,000 for future pain and suffering. The jury deliberated for less than four hours before finding Lafitte 85% at fault and Pierce 15% at fault. The jury trial lasted six days.
The case is entitled Laura Hambrook v. Jimmie Lafitte, Et Al. and is Monterey County Superior Court Case #M133438. The case was before the Honorable Marla Anderson. Hambrook was represented by Charles Tony Piccuta from the Piccuta Law Group, LLP. Lafitte was represented by David Hirshik from Gomes Hirshik & Hummel.
Share article on social media or email: