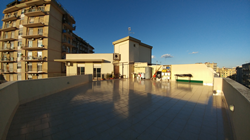 This condo is located in modern downtown Catania, in a well-respected part of the center of the city. The owner has spent hundreds of thousands of dollars to remodel it. It is a pleasure to lounge on the large terrace of this penthouse and enjoy life in a city with so much to offer (said Gregory)
LOS ANGELES (PRWEB) December 28, 2018
For sale is a nice penthouse with 3 bedrooms and 1 bathroom, with plenty of space to add rooms and a second bath. It is located in the center of Catania, which is one of the top 5 mid-size European cities (as reported by Tripadvisor, 2017) and is well-known for offering plenty of sophisticated as well as down-to-earth things to do!
This top floor sunny condo spans over 1,100 square feet and comes with a large patio/terrace about the size of the penthouse itself (over 1,000 square feet).
The building has an elevator and the unit has a private garage.
The owner has remodeled many parts of the penthouse and was ready to build (with beautiful plans) an entertainment structure on the gorgeous terrace that would include a second kitchen and a large lounge area.
The penthouse comes with one and a half parking spaces in its own garage unit (which has a separate storage area). The storage area's wall can be torn down and then 2 cars would fit in this garage, which is located in the basement of the building.
This condo has central air conditioning, 2 additional individual a/c units, and central heating. The wrap-around balconies offer several views of this attractive area of Catania. Condo owners include many doctors and architects, as well as several creative professionals. Catania is well-known for its friendly residents, so making friends in this building and around town should be easy!
It is walking distance to many restaurants, the subway, several stores, and everything that downtown Catania has to offer.
Watch the video for this lovely penthouse at http://vimeo.com/260905794
This penthouse condo is priced at $ 497,000, cash offers only. Owner has an Italian real estate license.
The home owner association fee is only $ 70 a year!
Listing realtor: Gregory Graham, Real Estate Broker Associate and Mortgage Loan Originator/Officer (calBRE# 01379697; NMLS# 1320744).
For more information, text or call Gregory at 310-487-5230. Also, text him to confirm receipt of offer. Sellers answer all offers.
"This condo is located in modern downtown Catania, in a well-respected part of the center of the city. The owner has spent hundreds of thousands of dollars to remodel it. It is a pleasure to lounge on the large terrace of this penthouse and enjoy life in a city with so much to offer," said Gregory.
Buyers to do their own investigations regarding the property and the potential to increase its square footage, as well as regarding available European Union and other grants/remodeling loans. It is a great vacation home near North Africa, Greece, and other beautiful locations!
Gregory Graham, Broker Associate at Keller Williams Larchmont in Los Angeles, has distinguished himself in the field of global real estate transactions. He is a Certified International Property Specialist (CIPS). This designation is given to real estate agents who have acquired specialized education, market knowledge, competence, and experience in successfully and effectively listing and selling international real estate properties. Contact Gregory for information on his other Italian real estate listings.
Share article on social media or email: