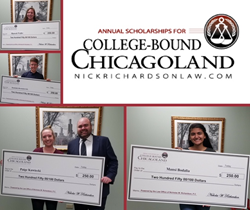 I'm thrilled to continue giving back to the communities that have helped me grow my business and make a small dent in the long list of expenses related to earning their degrees - Attorney Richardson
PALATINE, Ill. (PRWEB) August 01, 2018
As the 2017-2018 school year concluded, family law attorney Nicholas W. Richardson awarded his 5th Annual Scholarships for College-Bound Chicagoland Powered by his namesake office to four area high school students. Since 2014, attorney Richardson has supported almost $10,000 in post-secondary education.
Each student wrote about a mentor who shaped his/her high school experience and future career plans. Congrats to both the winners listed below and the mentors who truly made a difference in our country's next generation of leadership:
Mansi Bodalia, Maine East High School, Park Ridge
Role Model & Mentor: Business Teacher, Tennis Coach and Rotary Interact Sponsor
Dominik Bronakowski, Maine West High School, Park Ridge
Role Model & Mentor: His Mom
Paige Kawiecki, Palatine High School, Palatine
Role Model & Mentor: Certified Nursing Assistant Teacher
Hannah Waller, William Fremd High School, Palatine
Role Model & Mentor: Engineer Whom Inspired Her to Explore Engineering.
Since the program launched in 2004, the essays represent dozens of high schools across the Chicago area. Each year, the essays continue to impress, so much so that Attorney Richardson adjusted the award structure, so each student receives a $250 scholarship. High school seniors in Chicago's Northwest Suburbs have used their scholarships to further their education at both two- and four-year programs and for related expenses.
"I'm thrilled to continue giving back to the communities that have helped me grow my business and make a small dent in the long list of expenses related to earning their degrees," says Attorney Nicholas W. Richardson, who was named a 2018 Rising Stars, an honor given to only 2.5 percent of Illinois lawyers. "Because of the well-written essays I received last year, I opted to give four scholarships of the same amount; however, selecting only four was equally hard this year."
Typically, the honor of Rising Stars is associated with larger firms, so the honor of being nominated three years running is not lost on Attorney Richardson.
"During the last 12 years, I've helped hundreds of families across Chicago's Northwest Suburbs with a wide variety of issues, and while honors like Rising Stars validate my work, I'm beyond grateful for the community's support, as I continue growing my business," adds Attorney Richardson. "I'm grateful for the ability and opportunity to support tomorrow's leaders through education. And from the number of essays my office receives annually, area families appreciate the program."
Read the 2018 Scholarship-Winning Essays, and the 2019 Scholarship Prompt now. Essays for 2019 are due April 15.    
About the Law Office of Nicholas W. Richardson, P.C.:
Based in Palatine, Ill., at his namesake law office, Attorney Richardson helps families throughout Chicago's Northwest Suburbs navigate numerous family law-related matters every day. His direct, straightforward approach has resonated with his clients since his admission to the Bar of Illinois in 2004. For more information, visit NickRichardsonLaw.com.
Share article on social media or email: