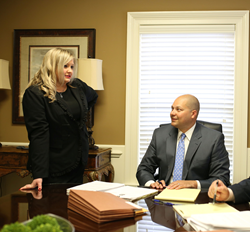 We are proud to be able to help our clients every day, and consider it a privilege to be asked to share our experiences and knowledge with our peers and the domestic litigation community
ATLANTA (PRWEB) February 25, 2019
Prominent Atlanta family law attorneys Jarrod Oxendine and Christine Palmer have been assisting families through major life transitions for over thriteen years. This February, they're honored to share their knowledge and expertise with others in the field about how to better serve their family law clients.
Oxendine and Palmer were both selected to present at the Georgia Family Law Practice for Paralegals seminar on February 28th, 2019 in Atlanta. This seminar is a continuing education and training opportunity for paralegals in the area who want to expand their knowledge in matters of family law such as divorce settlements, child custody, adoption, child support, and more. In particular, Oxendine and Palmer will present on "Enforcing and Modifying Family Law Orders and Decrees."
Oxendine and Palmer are a natural choice for this event. Together they are the driving force behind Oxendine Law in Suwanee. They both specialize in all aspects of family law, including a focus on high asset divorces and complex custodial matters. Oxendine and Palmer have been working together since 2012, developing a rapport and using their combined strengths to achieve the best outcome for their clients.
"As a family man and father of a three children myself, my mission is to help the people of metro Atlanta resolve their divorces, child custody arrangements, and other family structure changes in a positive way," says Jarrod Oxendine. "I'm thrilled to have the ability to both fulfill that goal in my daily practice and also help local paralegals grow their own skills and careers, working toward that same objective." "Family law has always been close to my heart," says Palmer. "We am proud to be able to help our clients every day, and consider it a privilege to be asked to share our experiences and knowledge with our peers and the domestic litigation community."
Oxendine and Palmer are honored to have been selected to present at this conference and recognize the prestige and responsibility associated with being asked to educate and advise their peers in the legal community. Beyond their presentation this February, Oxendine and Palmer look forward to future opportunities to help local legal professionals better serve their family law clients.
ABOUT OXENDINE LAW
Oxendine Law is a respected resource for family law in Gwinnett County as well as metro Atlanta as a whole. The practice, led by founder Jarrod Oxendine and his Senior Attorney Christine Palmer, specializes primarily in divorce and domestic litigation. Both are members of the State Bar of Georgia, and Oxendine is a member of the Gwinnett County Bar Association as well. Oxendine earned his law degree from Mercer Law School in 2005 and is honored to put his expertise to use in the greater Atlanta area where he was born and raised. Palmer grew up in Alabama and earned her degree from Florida Coastal School of Law in 2008. She has been an active member of the Atlanta legal community since graduation. Both are dedicated to using their family law expertise to benefit for every client in the Suwanee area and beyond.
Share article on social media or email: