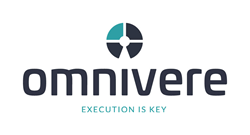 From the beginning, Omnivere has valued strong partnerships and maintained a clear commitment for success. We built our new brand to better reflect those values.
CHICAGO (PRWEB) January 31, 2018
Omnivere, a leading eDiscovery service provider and legal technology company, introduced its new company branding this week at LegalTech. The new brand represents the successful results of its integration and business process improvement efforts that translate into significant enhancements to how it provides services to the market. The new company brand is designed to reflect the successful transformation of the organization.
Since its inception in 2014, Omnivere has grown to become one of the most respected providers of eDiscovery services and legal technology consulting in the market. During this time, it acquired several leading companies, added new talent, and expanded its technology portfolio. Omnivere has taken great strides to consolidate and streamline its business processes, making substantial investments in its operations, information technology, data privacy and security, project management, product development and finance teams. The new brand represents Omnivere's successful efforts to become a unified organization that can better serves its clients.
"The eDiscovery market has been transformed by consolidation over the years. What separates vendors in the market is the ability to execute on integration and business process improvement initiatives to unify the merged organizations," said Tony Caputo, CEO. "We have made significant efforts in this area that allow us to seamlessly serve our clients as a unified organization."
With its organizational transformation efforts successfully implemented, Omnivere is now focused on providing efficient services to the marketplace, building out its managed services offering and expanding its technology portfolio. Among other developments, Omnivere expects to launch a new solution in the first quarter of 2018 that streamlines the collection, review and analysis of data collected from mobile devices.
About the new Omnivere brand: From the beginning, Omnivere has valued strong partnerships and maintained a clear commitment for success. We built our new brand to better reflect those values. The new logo portrays the silhouette of a person and a keyhole, evoking themes of security and the importance of maintaining relationships - tying together what's most significant to Omnivere. The separate shapes that form the circle are indicative of the way Omnivere brings large volumes of information and data together to solve our client's problems.
"Execution Is Key" is a phrase that embodies the importance of speed, performance and accomplishment. The resulting logo and tagline is a simple, yet unique embodiment of Omnivere.
About Omnivere:
Omnivere provides comprehensive eDiscovery and legal technology services for corporations and law firms who have legal and compliance risk exposure and who need secure, intelligent and timely-delivered solutions to manage their data. Delivered by a team of dedicated and responsive project managers who strive to build and maintain strong client relationships, our solutions reflect a commitment to innovation and data-driven problem solving.
Share article on social media or email: