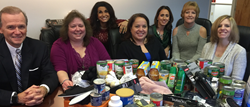 "Everyone immediately wanted to pitch in," said Catherine O'Donnell, an attorney with O'Donnell Law.
KINGSTON, Pa. (PRWEB) November 22, 2017
The team at O'Donnell Law Offices of Kingston, Pennsylvania, is helping families who are related to a fellow co-worker. All three of these families live in Puerto Rico and have been hurt by Hurricane Maria. Many items are still unavailable or excessively expensive on the Island.
Lourdes Cardinez, an Administrative Assistant at O'Donnell Law Offices, is originally from Puerto Rico. When her co-workers found out that several of her relatives, three separate families, who continue to live on the Puerto Rican island were suffering, they all wanted to help as part of the Office's traditional holiday acts of kindness. Lourdes told them all the items her family needed, including canned goods, slippers, socks, can openers, all sizes of batteries, water filters, etc.
"Everyone immediately wanted to pitch in," said Catherine O'Donnell, an attorney with O'Donnell Law. "We just sent our first packages (it currently takes about two weeks to get there) and look forward to sending more. What a great way to know you are really helping those in need."
O'Donnell Law Offices has been recognized in the rankings of U.S. News and World Report and Best Lawyers 2018 with a "Best Law Firms" ranking. Attorneys Neil T. And Catherine R. O'Donnell have been selected to the Martindale-Hubbell Bar Register of Preeminent Lawyers. Both Neil and Catherine have been selected to the Pennsylvania super Lawyers list for several consecutive years, with Neil also named to the Top 100 Super Lawyers in Pennsylvania. Michael O'Donnell has been listed as a 2017 Rising Star by Pennsylvania Super Lawyers.
About O'Donnell Law Offices
O'Donnell Law Offices is a Northeastern Pennsylvania personal injury law firm which has successfully represented all types of personal injury claims, ranging from auto and trucking accidents to product liability claims, to medical malpractice and wrongful death claims. The firm is located in Kingston, Pennsylvania, and its superb team of attorneys provides top quality legal representation and unparalleled service to its clients and the community. O'Donnell Law has been representing clients for nearly three decades, and in that time has received numerous awards and recognitions. Visit http://www.odonnell-law.com or call 570.821.5717 for more information on the firm.
Share article on social media or email: