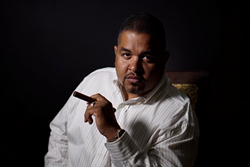 "I am not selling these recordings or my story at a wholesale rate," Pereira stated. "This is my life and O. J.'s reality. We captured history."
Hollywood, California (PRWEB) September 25, 2017
Bail Bondsman Turns Down $2 Million for Exclusive O. J. Simpson Story
Miguel Pereira announces that he is waiting for an offer commensurate with the value of his story.
Miguel Pereira, the bail bondsman who achieved fame thanks to his connection with O. J. Simpson during Simpson's Las Vegas legal troubles, is back in the news once again. Pereira recently declined an offer of $2 million for his exclusive story and the documentation of his interactions with O. J. during the robbery case, which spanned the years of 2007 and 2008. As Simpson's bail bondsman and temporary roommate during the course of the trial, Pereira was able to collect more than 30 hours of recordings along with an array of documents related to Simpson and the Las Vegas case.
Simpson Back in the News
With the recent approval of Simpson's parole request, the O. J. story is likely to heat up in the near future. Pereira has thus far declined a range of offers, including one amounting to $2 million, for the rights to his story and the recordings in his possession. "I am not selling these recordings or my story at a wholesale rate," Pereira stated. "This is my life and O. J.'s reality. We captured history."
Guilty in Vegas
A portion of the story shared by Pereira and Simpson was revealed on the A&E program, "O.J.: Guilty in Vegas," which made its debut on the cable channel on September 21, 2017. With the guidance of his manager, Kevin Watson, Pereira provided valuable background information to the producers of this two-hour special and appeared on screen to tell a portion of his story. The support offered by Pereira, however, represents only a small fraction of the exclusive content currently up for bids by Watson and Pereira.
A Unique Live-In Arrangement
During the Las Vegas trial proceedings, O. J. Simpson resided with Miguel Pereira because no hotel in the area would provide Simpson with accommodations. This allowed the two men to interact on many occasions. The recordings up for sale by Pereira are raw and unfiltered content that provides a once-in-a-lifetime window into Simpson's state of mind when the cameras were not rolling. This uncensored and unedited content includes numerous personal interactions and revelations and is available for licensing in perpetuity for the winning bidder.
An Artistic Collaboration
Miguel Pereira is represented by Kevin Watson, a well-known name in the entertainment management field. Watson has many years of experience in the branding, broadcast and technology industries and is ideally positioned to negotiate terms of these rights with television producers. Both Watson and Pereira are committed to the responsible use of the information they provide and are looking for a reputable company to manage this content ethically and to the highest standards of quality.
Bids are expected to close later this year for the rights to the exclusive content and information compiled by Miguel Pereira during his year-long interactions with O.J. Simpson. To learn more about how to join in the bidding process, please contact Kevin Watson directly.
Share article on social media or email: