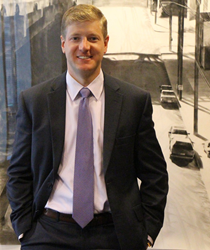 No man should ever die this way," said Heller. "This was preventable. The family deserves the vindication from the jury's verdict that what the hospital did was wrong.
SANDUSKY, Ohio (PRWEB) August 29, 2018
On August 10, 2018, an Erie County jury comprised of five women and three men awarded a Sandusky family $300,000 in a medical malpractice and wrongful death lawsuit against Firelands Regional Medical Center. The case centered around the family's father, Peter Porter, who was admitted to the Firelands hospital just four days prior to his death. The lawsuit alleged that the nurses at Firelands failed to adhere to the hospital's medication administration policies and procedures. Over the course of several days, specifically November 11 and 12, 2015, the hospital's nurses allegedly failed to timely provide medication to Peter Porter, who suffered from Parkinson's Disease.
The jury found that the Parkinson's Disease led to Peter Porter becoming dysphagic, meaning he often times had difficulty swallowing. The medication Peter Porter was prescribed was critical in preventing his swallowing difficulties and because of this, the hospital's doctors ordered Mr. Porter's medication to be administered at specific times. The hospital also had policies in place to ensure the medication was administered timely. The testimony at trial also showed that because the nurses failed to administer the medication timely, and sometimes not at all, Peter Porter became completely unable to swallow. On the morning of November 12, due to a lack of communication between Peter Porter's nurses, as well as improper documentation in their nursing records, a Firelands nurse orally administered 10 medications to Peter Porter.
Court documents showed that due to his swallowing difficulties, he was not able to handle all of the medication and he aspirated one of the medication capsules. Over the course of several hours, Mr. Porter's body attempted to fight off the capsule, which became lodged in his trachea, or windpipe. Mr. Porter's body was not able to dislodge the capsule and he ultimately died of asphyxiation (Case #238710 - Erie County Common Pleas Court).
"This was an absolutely horrible way to die," said Jeff Heller of the Nurenberg Paris law firm, who represented the family. "The hospital had appropriate and reasonable policies in place to prevent something like this from happening, the nurses just failed to follow them," said Heller.
Peter Porter's family testified at trial and described a hard-working man who missed five days of work in 30 years at the Lorain Ford plant in Lorain, Ohio. "My dad was an A-plus man," said Mr. Porter's son, James. "He said to always respect those around you and never take advantage of a man when he's down. He told me to '[a]lways pick people up.'"
Jeff Heller is a trial attorney for the Nurenberg Paris law firm in Cleveland, Ohio. Nurenberg Paris is celebrating its 90th Anniversary this year fighting for the rights of injured people.
Share article on social media or email: