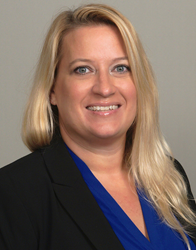 Heather's tremendous experience will move NATIC into the next phase of its growth in Florida title production.
Miami, Fla. (PRWEB) November 29, 2017
Heather Tally has joined North American Title Insurance Co. (NATIC) in the newly created role as title operations manager. In this position, she will oversee the work of the company's title examiners in Florida and will work with NATIC's operations and underwriting teams to expand agent support in title examination and ensure its superior quality. Tally has more than 18 years' experience in title examination and production in Florida.
"Heather's tremendous experience will move NATIC into the next phase of its growth in Florida title production," said Valerie Jahn-Grandin, NATIC executive vice president and chief underwriting counsel. "She will help us expand our talented examination team, develop training and advancement plans, and make certain we are on the cutting edge of search and production tools."
"Across my career, Heather is one of the best examiners I have ever worked with," added Jahn-Grandin. "She epitomizes customer service in the title production realm. NATIC agents will enjoy working with Heather and her expanding team."
Tally most recently worked with Westcor as its Florida assistant state production manager, where she managed a team of over 40 title examiners. Previously, she worked for Attorneys Title Fund Services as a senior title examiner, and had experience as a title examiner for many years prior to that. Tally holds an associate degree in business administration from Pensacola Junior College.
"Beginning my career in an entry-level position and working in several areas throughout my tenure in the title industry has given me a unique perspective on improving efficiency, quality and the overall experience within a title plant," said Tally. "I am pleased to join a company that is already well established, secure and respected, and where I can be part of its development and growth as well."
Tally is located at the NATIC headquarters, 760 NW 107th Ave., Suite 401, Miami, FL 33172. She may be reached at (305) 559-5656.
About North American Title Insurance Co.
North American Title Insurance Co. (NATIC) is a seasoned title insurance underwriter, helping title agents achieve the goal of true business success for over 50 years. The company operates in 39 states and the District of Columbia. NATIC earned the reputation as the "underwriter next door" because its decision makers and associates are easy to reach and their processes are quick and straightforward, including a one-hour underwriting response guarantee that is unparalleled in the industry. The NATIC agency application process is fast and transparent for qualified agents.
NATIC is in Peer Group 1, which groups companies with total assets of greater than $100 million as determined by Kroll Bond Rating Agency Inc., and is ranked 6th by The Performance of the Title Insurance Underwriters© in terms of cash or cash equivalents. NATIC generated more than $230 million in agency premiums in 2016 and maintains a policyholder surplus of approximately $74 million as of Dec. 31, 2016.
NATIC earned a rating of: A' (A Prime) Unsurpassed from Demotech, Inc., A- from Kroll and B++ (Good) from A.M Best. NATIC is headquartered in Miami, Florida. To learn more, visit http://www.natic.com.
Share article on social media or email: