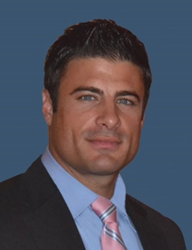 It's humbling to see my clients appreciation for the service my team and I provide throughout the home-buying process
LITTLE FALLS, N.J. (PRWEB) January 31, 2019
NJ Lenders Corp. wants to congratulate their very own Senior Loan Officer, Justin Bonura, on becoming one of the company's top 3 SocialSurvey performers in 2018.
NJ Lenders Corp. has worked with SocialSurvey in order to get testimonials and reviews from past clients for their loan officers. SocialSurvey's goal is to drive employee behavior and improve customer experience, online reputation and revenues.
Reviews have always been important to NJ Lenders Corp., as they reach out to all clients to get feedback on their mortgage process. As a company, NJ Lenders Corp. has nearly 5,000 reviews and almost a perfect score of 4.90. SocialSurvey lets past clients rank the loan officers they worked with one a scale from 1-5 stars, and Bonura established himself as one of 2018's top performers with a 4.9 ranking and over 300 reviews.
"I am very pleased and honored to receive this award," said Bonura. "It's humbling to see my clients appreciation for the service my team and I provide throughout the home-buying process."
Along with being a SocialSurvey top performer, Bonura has been recognized as a Top 200 loan officer in US Mortgage Magazine, and a top producer by Scotsman Guide. He currently resides in Parsippany, New Jersey with his wife and three boys, where he also coaches soccer and baseball. In 2014, he was inducted into the Athletic Hall of Fame at Drew University for men's soccer.
If you've worked with Bonura before and are interested in writing a review for him through SocialSurvey, you can do so on his SocialSurvey page: https://socialsurvey.me/pages/justin-bonura
The page also allows you to connect with Bonura through Facebook, Twitter, LinkedIn, Google Business Rate & Review, as well as Zillow. You can also contact him for any mortgage questions and inquiries you might have in regards to purchasing or refinancing a home.
About NJ Lenders Corp.
Founded in 1991, NJ Lenders is a leading NJ-based residential mortgage banker that is privately owned and licensed. The company currently originates first mortgage loans in NJ, NY, CT, PA, VA, MD, and FL. With 11 offices and over $25 billion in closed mortgage loans, many of their Mortgage Loan Originators are recognized nationally as the best in their field. The company has competitive rates and fees with a wide variety of mortgage programs to select from.
About Justin Bonura
Justin Bonura is a New Jersey Licensed Mortgage Banker and Division Manager at NJ Lenders Corp. He is also licensed by the New York Department of Financial Services. Justin was awarded Top 200 Mortgage Originators Nationwide by Mortgage Executive Magazine for the last three consecutive years. He was Ranked Top Producers 2017 and 2016 National Mortgage News, and received "Top Producer " Award by Scotsman Guide for Overall Volume & Production since 2015. Justin has also received the "New Jersey 5-Star Mortgage Professional" award given by New Jersey Monthly Magazine for overall satisfaction and customer service. He is a graduate of Drew University with a major in Economics and a minor in Business Management. His was inducted into the Hall of Fame at Drew for his outstanding career as a soccer player. Justin is also a graduate of Don Bosco Preparatory in Bergen County. Justin has the expertise and knowledge to help you determine the absolute best loan program to meet your financial objectives. As a mortgage banker, he walks every client through each step of the process from preapproval to closing. Justin specializes in non-warrantable condos, jumbo loans, FHA, 203k, VA, USDA loans and first time home buyers.
Share article on social media or email: