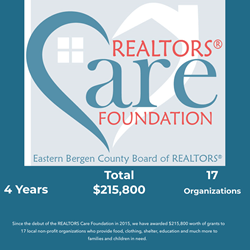 Having been involved with the organization since the beginning, it's truly amazing to see the amount of money that has been raised and the number of people we have positively impacted in such a short period of time
LITTLE FALLS, N.J. (PRWEB) January 21, 2019
NJ Lenders Corp. is pleased to announce that the Greater Bergen Association of REALTORS®, REALTORS® Care Foundation has recently declared that in 2018, they gave $67,000 in grant monies to 15 different organizations in Bergen County. The foundation has raised money annually to help provide support to those in need, and to help improve the quality of life in the communities where their members live and work.
"I am proud to be the president of the REALTORS® Care Foundations," said 2018 CARE Foundation President Annekee Brahver-Keely. "We are an organization who grants money to those who need it the most. I promise to continue to look for more ways to fundraise and provide support to local organizations that share our passion to improve the communities where our members live and work."
Since the start of the REALTORS® Care Foundation in 2015, they have awarded $215,800 worth of grants to 17 local non-profit organizations who provide food, clothing, shelter, education and much more to families and children in need.
"Having been involved with the organization since the beginning, it's truly amazing to see the amount of money that has been raised and the number of people we have positively impacted in such a short period of time," said Steve Grossman, Partner at NJ Lenders.
The Greater Bergen Association of REALTORS®, REALTORS® Care Foundation 2018 grant recipients include: Alliance Against Homelessness, Family Promise of Bergen County, Boys & Girls Clubs of Lodi/Hackensack, Center for Food Action, ANJEC, Center for Hope and Safety, Project Literacy of Bergen County, Rebuilding Together, Southeast Senior Center for Independent Living, Spectrum for Living, Transition Professionals, Vantage Health System, Bergen Volunteer Center, Women's Rights Information Center, and Youth Consultation Service.
For more information on the Greater Bergen Association of REALTORS®, REALTORS® Care Foundation, you can visit their website at http://www.gbarcarefoundation.org/
About NJ Lenders Corp.
Founded in 1991, NJ Lenders is a leading NJ-based residential mortgage banker that is privately owned and licensed. The company currently originates first mortgage loans in NJ, NY, CT, PA, VA, MD, and FL. With 11 offices and over $25 billion in closed mortgage loans, many of their Mortgage Loan Originators are recognized nationally as the best in their field. The company has competitive rates and fees with a wide variety of mortgage programs to select from.
Share article on social media or email: