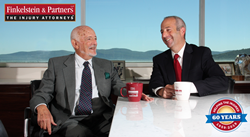 "We got to this point by being thorough, determined, and completely dedicated to holding wrongdoers accountable on behalf of our injured clients." -Andrew Finkelstein, Managing Partner
NEWBURGH, N.Y. (PRWEB) January 29, 2019
Howard S. Finkelstein (1933-2017) founded his law firm on Liberty Street in 1959, at the suggestion of his father-in-law, who owned a Suntag Drugs Pharmacy on Broadway. Having moved to the 'country' from his native Brooklyn, NY, Howard had earned his Bachelor's degree at Brooklyn College. He then went on to serve his country as a soldier in the Korean War as part of the GI Bill, which enabled him to attend Brooklyn Law School.
Today, 60 years later, the tradition Howard began of doing what is right for his clients and the community is thriving. The culture of caring is carried on by his son Andrew, also the firm's managing partner, and the more than 200 attorneys and legal support professionals at Finkelstein & Partners. Nearly ten years ago the firm launched a volunteer program which grants all interested employees the opportunity to volunteer on a paid basis at local nonprofit organizations. Firm volunteers are able to take up to 4 hours each month during their work schedule to volunteer and receive pay as if they were working. Additionally, the firm will donate $150 towards the employees' chosen charity for every 15 hours of their volunteer time.
Investigator Rolando Zapata is a big fan of the program. "For the past several years I've been involved with such causes as The Plattekill Veteran's Memorial Park Fund and The Plattekill PBA / Bruce Loescher Scholarship Award for graduating high school seniors going to college and majoring in Law Enforcement or Agriculture. I was also able to help benefit disabled Veterans and The Winona Lake Fire Department. I am very proud to say that my team and I helped raise thousands of dollars for these great causes."
"I am both honored and humbled that the firm my Dad started is one of New York State's most respected personal injury law firms," notes Andrew Finkelstein. "We got to this point by being thorough, determined, and completely dedicated to holding wrongdoers accountable on behalf of our injured clients. To commemorate this remarkable anniversary we are dedicating the year to shining a spotlight on six local nonprofit organizations that are close to our hearts." Starting this month Finkelstein & Partners will sponsor family-friendly events throughout the Hudson Valley, with each event featuring a different nonprofit:
"How do I let you know how grateful I am for the generosity shown to me and the kids? I am overwhelmed with the kindness of the firm." -Pastor Rosie, Director of Northeast Gateway to Freedom
"We hope that everyone will come enjoy the great events and join us in learning about and supporting these organizations who contribute so much to the beautiful Hudson Valley." – Andrew Finkelstein
About Finkelstein & Partners, LLP
Headquartered in Newburgh, NY, Finkelstein & Partners, LLP has been successfully winning serious injury cases for nearly 60 years. Offices are located throughout New York and New Jersey and services include Personal Injury, Social Security Disability Benefits, Workers' Compensation, Nursing Home Neglect and Veterans Services. The firm's Commit to Quit Distracted Driving program highlights the serious dangers of distracted driving for teen drivers. We care deeply about the work we do and the communities we serve. We encourage our family of employees to devote time and assistance to community projects, because we want to be a part of building better communities. To learn more, visit the firm's website at lawampm.com or call 1-800-Lawampm / 1-800-529-2676.
Share article on social media or email: