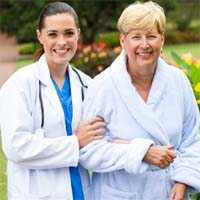 Results revealed a significant reduction in depressive symptoms, anxiety and body image issues...
Raleigh, NC (PRWEB) October 10, 2017
New research conducted at a Milan university indicates a role for aesthetic interventions like wig-fitting and skin-care instruction for patients facing cancers such as malignant pleural mesothelioma. Surviving Mesothelioma has the full story on the new study. Click here to read it now.
Scientists at Vita-Salute San Raffaele University administered a battery of questionnaires to 88 female cancer patients before and after a program designed to show them how to look their best during treatment.
"Results revealed a significant reduction in depressive symptoms, anxiety and body image issues, as well as an improvement in self-esteem levels," writes lead researcher Valentina Di Mattei. "This suggests that participating in this program could facilitate better adjustment to disease and treatment."
According to the study, although mesothelioma patients and others may lose their hair and experience skin changes during treatment, with adequate support, these changes do not have to negatively impact psychological health.
"This study is just further confirmation that the most effective treatment for mesothelioma patients is treatment that takes the whole person into consideration, including body, mind, and spirit," says Alex Strauss, Managing Editor for Surviving Mesothelioma.
To read more about the Italian "Health in the Mirror" program and the results of the study, see Mesothelioma Patients May Benefit from 'Aesthetic Support', now available on the Surviving Mesothelioma website.
Di Mattei, VE, et al, "'Health in the Mirror': An Unconventional Approach to Unmet Psychological Needs in Oncology.", September 21, 2017, Frontiers in Psychology, eCollection, https://www.frontiersin.org/articles/10.3389/fpsyg.2017.01633/full
For more than a decade, Surviving Mesothelioma has brought readers the most important and ground-breaking news on the causes, diagnosis and treatment of mesothelioma. All Surviving Mesothelioma news is gathered and reported directly from the peer-reviewed medical literature. Written for patients and their loved ones, Surviving Mesothelioma news helps families make more informed decisions.
Share article on social media or email: