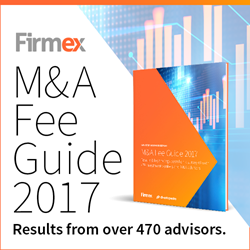 The M&A Fee Guide sheds much-needed transparency on a subject that is rarely discussed in public forums.
TORONTO (PRWEB) October 17, 2017
Firmex today released new research on M&A advisory fees prepared in conjunction with Divestopedia. Firmex and Divestopedia surveyed 471 investment bankers and M&A advisors globally to compile The M&A Fee Guide 2017 report. To help put the results in perspective, contributors BDO, Dentons and Integrated Asset Management Corp. (IAM Group) weigh in with their insights on the data.
Interesting findings in the report include:
M&A success fees vary notably by different regions and major city centers. For example, a majority of respondents in the US Pacific indicated success fees of 2-4% for a $50 million deal, whereas, in the US Northeast, a majority of respondents indicated success fees of 1-2% for a same sized deal. Given these significant differences, M&A advisors should 'think locally' when assessing their fees and not rely exclusively on national averages.
Success fee structures that more closely align bankers' interests with sellers, where both parties are rewarded for a higher total deal value, appear to be more prevalent in the marketplace with 45% of respondents indicating that a scaled percentage success fee was used in the engagement structures.
There is no industry-standard definition of what constitutes purchase price in a transaction upon which a success fee is calculated, nor is there industry alignment on the timing of when a success fee is paid. That said, 76% of respondents include earnouts in their calculation of success fees.
"Investment bankers and advisors have had little to go on other than word of mouth to compare their fees with those of other firms in their region," says Mark Wright, CMO of Firmex. "This annual research report aims to provide greater insight into mid-market M&A fees to help advisories better structure and align their fees with the market and client expectations."
"Information about M&A advisory fees has been surprisingly difficult to track down," says John Carvalho, President of Divestopedia and a practicing M&A professional. "Business owners often find themselves in unfamiliar territory when it comes to retaining the services of an investment bank or advisory firm, and naturally they have questions about whether the fees being charged are appropriate. This annual M&A Fee Guide sheds much-needed transparency on a subject that is rarely discussed in public forums."
Get the Full Report
To download your copy of the M&A Fee Guide 2017, visit: https://www.firmex.com/resources/ma-fee-guide-2017-download/
Sign Up for the Webinar
Join us on November 2nd, 2017 at 1:00 p.m. EST for a webinar on the key findings in the report. John Carvalho of Divestopedia will moderate a discussion with Adam Mallon and Ryan Farkas of BDO Canada, Shane Stevenson, Dentons, and Jeff Deacon, IAM Group.
To sign up for the webinar, visit https://www.divestopedia.com/reg/ma-fee-guide-2017/8356.
About Firmex
Firmex is a global provider of virtual data room and secure document sharing solutions. As one of the world's most widely used virtual data rooms, Firmex streamlines complex, mission-critical processes for organizations of all sizes, including due diligence, corporate governance, regulatory compliance, litigation, and procurement. Over 120,000 companies have trusted the Firmex Virtual Data Room (VDR) platform to keep their confidential documents safe. Backed by award-winning customer support delivered by a dedicated team of in-house professionals with deep product and industry expertise, Firmex solutions simplify projects and keep transactions running smoothly.
Share article on social media or email: