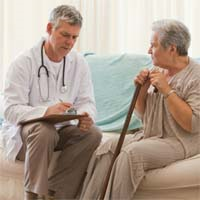 Implementing a PIPAC program is...associated with a risk of postoperative morbidity...
RALEIGH, N.C. (PRWEB) October 13, 2017
Scientists studying a technique for turning chemotherapy drugs into a spray and applying them to peritoneal mesothelioma tumors through ports in the abdomen say the procedure is helpful, but not without risk. Surviving Mesothelioma has the details of the new study. Click here to read the article.
Researchers at several French hospitals pooled their data to evaluate the technique, called pressurized intraperitoneal aerosol chemotherapy (PIPAC), in 164 patients with malignant peritoneal mesothelioma or another peritoneal cancer.
"Implementing a PIPAC program in association with systemic chemotherapy is...associated with a risk of postoperative morbidity, even in teams highly experienced in PC management and requires a learning curve in patient selection," concludes lead author Mohammad Aliyami, MD, with Centre Hospitalier Lyon-Sud.
The mortality rate was 40 percent among the first 20 patients treated with PIPAC, but the rate gradually improved as the surgeons became more adept at it.
"Although PIPAC is a newer procedure and is not yet widely available, we are always watching for techniques that have the potential to improve the odds of survival for people with malignant mesothelioma," says Alex Strauss, Managing Editor for Surviving Mesothelioma. "The rate of symptom control for patients in this study was encouraging."
To read more about PIPAC and see the results of the new study, see New Chemotherapy Technique Carries Risks for Peritoneal Mesothelioma Patients, now available on the Surviving Mesothelioma website.
Aliyami, M, "Multicentric initial experience with the use of the pressurized intraperitoneal aerosol chemotherapy (PIPAC) in the management of unresectable peritoneal carcinomatosis", September 21, 2017, European Journal of Surgical Oncology, Epub ahead of print, http://www.sciencedirect.com/science/article/pii/S074879831730700X
For more than a decade, Surviving Mesothelioma has brought readers the most important and ground-breaking news on the causes, diagnosis and treatment of mesothelioma. All Surviving Mesothelioma news is gathered and reported directly from the peer-reviewed medical literature. Written for patients and their loved ones, Surviving Mesothelioma news helps families make more informed decisions.
Share article on social media or email: