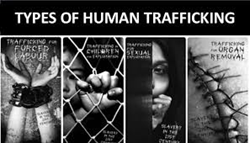 (PRWEB) November 29, 2017
As per estimates by the International Labor Organization (ILO), there are more than 20.9 million victims of human trafficking around the world. 68% out of them are forced laborers. 26% are children and 55% are women. In 2016, it is estimated that one out of 6 children are the victims of sex trafficking.
The estimated global cost to purchase a Human Trafficking victim is averaged at around $90 globally. Sex trafficking, and involuntary servitude, is becoming the world's biggest money maker for criminal organizations. Isaiah Kenath Taylor of Safe Heaven, believes that most future victims of Human Trafficking are right in our own backyard as drugs, poor and runaway children are the likeliest and most vulnerable to become a victim of any sexual predators.
"Putting together an alliance to fight Human Trafficking throughout the world is a great idea as humans are in contact with some form of technology and it is easy very easy to report suspicious activity, and also alert authorities to suspected pimps, stash houses, and sending out a clear message locally and internationally, that human trafficking of any kind will not be tolerated," says Co-Founder Isaiah Kenath Taylor
Focusing on their theme of "Changing Through Humanity", Safe Heaven Inc, a new Grassroots Organization startup founded to fight Human Trafficking worldwide, invites every world citizen to become part of the movement by becoming a co-founder of the organization. The first 20,000 Co-Founders will be named Board Members with each member having the same voting power and several other benefits.
According to Co-Founder of Safe Heaven, Isaiah Kenath Taylor, the idea is to inspire anyone who wants to make a difference in the world to be eyes and ears locally and internationally in the fight against Human Trafficking, by being a Co-Founder of the new grassroots startup organization. Safe Heaven's Co-founders are everyday citizens of the world that wanted to form an organization for the sole purpose of ridding the world of Human Trafficking.
At Safe Heaven, Every Co-Founder will be on the same level and will play an important role in bringing the Change Through Caring society. As a Co-Founder, everyone will have 100% input of company resources and will be able to vote on all the organization's projects, initiatives and the expenses incurred upon.
Isaiah Kenath Taylor reveals that all co-founders will get a Company Email Address and a Notarized and signed certified Co-Founder Certificate. Also, the individual's name will appear on the Company Website and he/she will also be able to use the Company name for legitimate Sponsorships and Events. Co-founders will also get thousands of discounts of 50% or more just for being a part of Safe Heaven.
To learn more about Safe Heaven and help put an end to Human Trafficking, you can visit the website https://www.safe-world.org/cofounder/
Share article on social media or email: