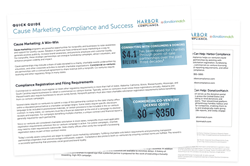 "Cause marketing partnerships can be highly successful opportunities for charities and businesses to raise awareness and support for worthy causes."
LANCASTER, Pa. (PRWEB) November 14, 2019
This week Harbor Compliance and DonationMatch released Cause Marketing Compliance and Success to help businesses and nonprofits launch successful, compliant partnerships that benefit charitable causes.
This user-friendly reference details cause partnership registration and filing requirements, cause marketing benefits for nonprofits and businesses, types of cause partnerships, and tips to help companies and charities identify potential partners.
"Cause marketing partnerships can be highly successful opportunities for charities and businesses to raise awareness and support for worthy causes," said John Beck, Harbor Compliance Director of Market Strategy. "This guide is designed to help organizations avoid charitable campaign disruptions by introducing them to the registrations and required documentation they may need to fulfill to maintain a compliant partnership."
In many states, businesses engaging in cause partnerships must file for a commercial co-venture license. The nonprofits they partner with must also meet state requirements for charitable solicitation registration before benefiting from co-venture funding campaigns. Partners may also be subject to special requirements for campaign disclosures, contract filings, and financial reporting.
Cause marketing partnerships such as share-of-sales, buy-one give-one campaigns, and co-branded merchandise sales are continuing to rise in popularity. Retailers have especially embraced partnerships to promote causes while increasing brand awareness and customer loyalty, and nonprofits frequently benefit from increasing both public visibility and funding support for their programs.
"Many nonprofits are excited about the potential of cause marketing, yet they're not sure how to get started," said Renee Zau, CEO and Co-Founder of DonationMatch. "Finding the right partner is key to launching a successful, mutually beneficial campaign. This guide provides tips for finding prospective partners and evaluating their fit based on factors such as charitable cause, fundraising tactics, and goals for the partnership."
Download Cause Marketing Compliance and Success here.
Harbor Compliance has published a companion piece, Charitable Solicitation Compliance, a free white paper for nonprofits explaining the fundraising registration process. The white paper covers online fundraising requirements, common forms of solicitation that require registration, and information on charitable disclosures, registration renewals, and extensions.
Both guides are featured in the company's Information Center, which comprises 4,000 pages of free licensing, tax, and entity management resources for businesses, nonprofits, and professional services firms.
Harbor Compliance assists co-venturers with commercial co-venture licensing, charitable solicitation registration, fundraising disclosures, and other aspects of compliance. DonationMatch provides a cause marketing platform that enables nonprofits and businesses save time and effort and achieve win-win results through in-kind donations to events and giveback programs.
About Harbor Compliance
Founded by a team of licensing specialists and technology trailblazers, Harbor Compliance empowers businesses and nonprofits with licensing, tax, and entity management solutions. Through a unique combination of dynamic data, advanced compliance software, and expert service options, the company helps organizations thrive and grow through every phase of the corporate lifecycle. The company's headquarters are located at 1830 Colonial Village Lane, Lancaster, Pennsylvania. To learn more, visit http://www.harborcompliance.com, or call 1-888-995-5895.
About DonationMatch
DonationMatch serves as the donation portal for companies across the United States and Canada, facilitating in-kind donations and giveback programs. Their streamlined platform for corporate philanthropy handles tedious and manual work for companies, enabling them to more efficiently and strategically make giving decisions, provide reports, and visibly engage their communities. Additional information is available at http://www.donationmatch.com or by emailing hello@donationmatch.com.
Share article on social media or email: