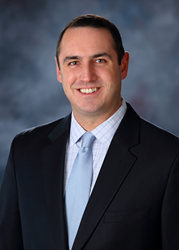 John brings strong expertise to the Firm and I'm looking forward to a productive relationship as he utilizes his experience and knowledge of the industry to provide our clients with world-class service and advice." Says Brian Pirri, CFP™, Principal of NEIRG
NORTH ANDOVER, Mass. (PRWEB) September 05, 2018
To support their expanding financial planning and wealth management practice, New England Investment & Retirement Group, Inc. ("NEIRG") would like to welcome John Ham to their company team. John has a thorough knowledge of the financial services business and is committed to being part of a team that delivers a comprehensive client solution. He assists in the development of complex and highly customized financial portfolios for high net worth individuals. Mr. Ham also brings strong management skills to the NEIRG team.
Mr. Ham earned a degree in Finance from Bryant University as an Accounting major. In addition, he received his Master's in Investment Management (MSIM) from Boston University. John has been a Chartered Financial Analyst® since April 2014.
"I'm thrilled to have the opportunity to join Nick, Brian and the team here at New England Investment & Retirement Group. After spending most of my career on the institutional side of investing. I've found that working directly with our clients here at NEIRG is much more rewarding. Being able to help NEIRG's families in accomplishing their particular goals with a client specific strategy is something that I've enjoyed doing and look forward to doing more of."
"We've expanded our Wealth Management group with new talent and John is the latest exceptional hire. He brings strong expertise to the Firm and I'm looking forward to working alongside him as he utilizes his knowledge of the industry to provide our clients with world-class service and support." Says Brian Pirri, CFP™, Principal of the firm.
Founded by Nick Giacoumakis in 1995, the continued mission of the firm is "To help our clients pursue financial independence by providing unbiased, objective guidance. We bring value through communication, education and exceptional service."
NEIRG is a financial services firm with locations in the North Shore of Massachusetts and Naples, Florida. For more than 20 years, NEIRG has helped individuals, families and businesses manage their financial assets and resources in order to achieve financial independence and security. With expertise in customized portfolio management, financial and estate planning, retirement benefits consulting, risk management solutions as well as tax planning, NEIRG provides a comprehensive and integrated approach to managing and building wealth. NEIRG's team of Certified Financial Planners™ and Chartered Financial Analysts® is committed to providing sound and unbiased advice to help clients optimize their complete financial picture with a coordinated estate, investment and tax strategy.
Share article on social media or email: