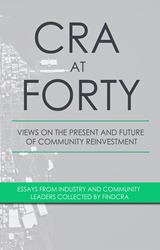 Palm Beach Gardens, Florida (PRWEB) December 05, 2017
R.E.A.C.H. – or Real Estate, Education and Community Housing – was founded in 2006 with a mission to inspire and motivate our Community to take the steps necessary to reach for and achieve the American dream of homeownership, equal justice, and healthy families. The organization acquires foreclosed or donated properties, and renovates them to offer for sale to low to moderate income families.
In honor of the 40th anniversary of the Community Reinvestment Act, Keith Ahronheim/R.E.A.C.H. has contributed an original essay to CRA at FORTY, a collection of works examining the present and future of CRA collected by findCRA.
The essay discusses the success or failure of financial education as it relates to the CRA's primary mission.
According to Michael Roberts, the Executive Director of R.E.A.C.H., "The article reaffirms the need for financial institutions to support financial coaching, in addition to financial education, to obtain positive outcomes and insure communities' credit needs are being met".
The book features thoughts on current topics ranging from fair lending practices to affordable housing needs to innovative nonprofit fundraising strategies. It also takes a look at the future of CRA including calling for policy changes, innovative approaches to community development and the role technology will play.
"The Community Reinvestment Act demonstrably changed the face of our nation by directly addressing race-based redlining practices and embracing banks' capacity to contribute to and help create real change in their own communities," said Ben Loehle, findCRA CEO and Co-Founder, who wrote the book's introduction. "CRA's mission feels as urgent now as ever before, and we wanted to bring our expansive community of people who are deeply invested in this work together to honor that in this 40th anniversary year."
The book, entitled CRA at Forty: Views on the Present and Future of Community Reinvestment, is available for purchase on Amazon and findCRA has published the full collection of essays at http://www.findCRA.com/CRAat40.
Share article on social media or email: