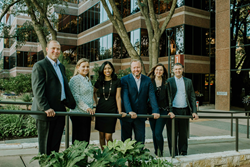 "Opening Ellwanger Law is a natural evolution of my passion for serving others as well as my family history that is steeped in upholding civil rights for all. We are excited by the opportunities that will allow us to help others in need."
AUSTIN, Texas (PRWEB) November 08, 2017
Ellwanger Law LLLP is pleased to announce the formation of a firm dedicated to aggressively defending the rights of employees in Texas and across the country. Ellwanger Law services clients nationally from offices in Austin and Dallas, Texas. The firm will be led by Jay D. Ellwanger, previously the Managing Partner of DiNovo Price Ellwanger & Hardy LLP. Ellwanger founded the firm with Holt M. Lackey, who will serve as Managing Partner of the firm's Austin office, along with three additional attorneys and a senior paralegal. The team combines their decades of industry experience in regional and national discrimination cases and offers a broad spectrum of anti-discrimination and civil rights services.
"It has become increasingly important for lawyers to defend the rights of their clients concerning injustices related to discrimination and civil rights violations," said founding Partner Jay D. Ellwanger. "Opening Ellwanger Law is a natural evolution of my passion for serving others as well as my family history that is steeped in upholding civil rights for all. We are excited by the opportunities that will allow us to help others in need."
"I am proud and excited to partner with Jay and the rest of the team to open Ellwanger Law," said founding Partner Holt M. Lackey. "Unfortunately, harassment, discrimination, and unfair pay practices remain all too common in the workplace, and our team has the right knowledge and experience to win justice for our clients."
Ellwanger Law LLLP founding Partners Jay D. Ellwanger and Holt M. Lackey began their careers at two of the nation's prominent and most influential law firms and have handled some of the largest, most complex employment discrimination matters in the history of the state of Texas. Together with attorneys Vasilios "Vas" Manthos, Jennifer Despins, and Esha Rajendran, along with Senior Paralegal Taylor Board, the team at Ellwanger Law LLLP is proud to bring their years of experience to clients throughout the United States.
About Ellwanger Law LLLP
Ellwanger Law LLLP represents employees who have individual and class-wide civil rights, discrimination and harassment claims based on race, gender, disability, national origin, religion, and age, as well as retaliation, whistleblower, and wage disputes. The firm was founded on the bedrock principle that when it comes to matters of discrimination and civil rights, one must fight for justice.
###
For more information, please visit http://www.ellwangerlaw.com.
8310-1 N. Capital of Texas Highway
Suite 190
Austin, Texas 78731
737.808.2260
Share article on social media or email: