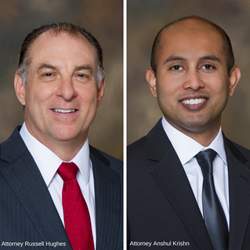 Nesci & St. Louis, PLLC is proud to announce that Russell "Rusty" Hughes and Anshul Krishn have joined their firm
Tucson, Arizaon (PRWEB) September 28, 2017
A native Arizonan, Russell Hughes brings a wealth of experience to his new role at Nesci & St. Louis, having been admitted to the Arizona State Bar in 1984. Russell has spent his entire career defending individuals accused of crimes, including holding a position as a supervisor in the Tucson City Public Defender's Office for over twenty-five years. Russell has extensive experience in motion practice, trial practice and appellate advocacy in a variety of courts in Tucson and throughout Arizona, including the Arizona Supreme Court. In addition, Mr. Hughes has served as the Chairman of the Board of Directors of the non-profit Tucson Old Pueblo Credit Union. Russell will continue to represent individuals accused of DUIs, misdemeanors and felonies throughout Arizona, as a member of Nesci & St. Louis.
Anshul Krishn is a 2012 graduate of Florida Coastal School of Law. Anshul is a natural fit at Nesci & St. Louis as he has always worked to defend clients from government action. In fact, Anshul was drawn to defense while still in law school, volunteering as an intern at his school's Immigrant Rights Clinic. Mr. Krishn went on to represent clients before the Executive Office of Immigration Review, before deciding that he wanted to pursue his true passion of defending those accused of crimes. Anshul will represent individuals accused of misdemeanors and felonies in Pima County and throughout Arizona as a member of the defense team at Nesci & St. Louis, PLLC
About Nesci & St. Louis, PLLC:
The experienced Tucson criminal defense lawyers at Nesci & St. Louis, PLLC have over 80 years of combined legal experience. The firm defends individuals who have been accused of crimes such as DUI's, homicides, drug offenses, sex offenses, aggravated assault, domestic violence, armed robbery and felony theft.
The highly qualified Arizona DUI lawyers and criminal defense lawyers assist clients throughout the state, including in Maricopa, Pima, Santa Cruz, Cochise, Pinal, Graham and Yuma counties. The firm is conveniently located in Tucson, Arizona within walking distance to the local courthouses. Contact Nesci & St. Louis, PLLC today to schedule a free initial consultation. Call (520) 622-1222 or contact the firm online.
Share article on social media or email: