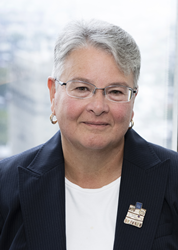 DOYLESTOWN, Pa. (PRWEB) June 30, 2020
Pennsylvania labor, employment and workers' compensation law firm Willig, Williams & Davidson is pleased to announce that partner Nancy B. G. Lassen has been elected as a Fellow to the College of Labor & Employment Lawyers. Election as a Fellow is the highest recognition by one's colleagues of sustained outstanding performance in the profession, exemplifying integrity, dedication and excellence.
After more than 30 years of practice as a union-side labor law attorney, Lassen has a reputation as a tireless and tenacious advocate for labor organizations and workers in every sector of the workforce. Her extensive experience includes representing clients in collective bargaining, state and federal trial and appellate litigation, state and federal administrative agency proceedings, grievance and interest arbitrations, internal union proceedings and occupational health and safety disputes.
Lassen also is a sought-after speaker, educating union leaders and law students, workers and attorneys in matters such as employment discrimination, family and medical leave, occupational safety and health, effective advocacy and representation skills, fair labor standards and the rights and responsibilities of labor unions and union members. In addition to practicing law, Lassen also served as an adjunct professor of labor law at the Thomas R. Kline School of Law at Drexel University.
The College of Labor & Employment Lawyers is a nonprofit professional association honoring the leading lawyers nationwide in the practice of Labor and Employment Law. Fellows are recognized as distinguished members of the labor and employment community who promote achievement, advancement and excellence in the practice by setting high standards of professionalism and civility, by sharing their experience and knowledge and by acting as a resource for academia, the government, the judiciary and the community at large. With the current installation, the College is represented by nearly 1,600 members in 46 states, the District of Columbia, Puerto Rico and eight Canadian Provinces.
About Willig, Williams & Davidson – Willig, Williams & Davidson (http://www.wwdlaw.com) is one of the largest and most respected union-side labor law firms in the United States. The firm has offices in Philadelphia, Harrisburg, and Jenkintown Pa., as well as Haddonfield, N.J., and Chicago, Ill. Founded in 1979, Willig, Williams & Davidson focuses on representing labor unions, employee benefit funds and individual working people and their families on a variety of legal fronts, including national, regional and local contract negotiations; election and campaign finance; dispute resolution through mediation, arbitration and litigation; family law matters; benefits law design and compliance issues; discrimination, overtime and unpaid wages, and other employment matters; prepaid legal services for union members; social security disability; and workers' compensation matters in Philadelphia and beyond. Workers inspire us.
Share article on social media or email: