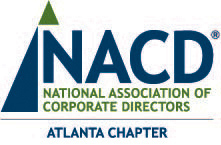 Atlanta, Georgia (PRWEB) September 26, 2017
The Atlanta Chapter of the National Association of Corporate Directors (NACD), the advocate for the profession of directorship, today announced the election of Luis Aguilar, Director, Envestnet, Inc., Donnelley Financial Solutions, Inc., and MiMedx Group, Inc. and former Commissioner, U.S. Securities and Exchange Commission; Tim Bentsen, Director, Synovus Financial Corp. and formerly with KPMG for 37 years, and Mario Concha, Director, Applied Minerals, Inc., and former President, Chemical Division, Georgia Pacific Corp. The elections increase membership of the Board of Directors to 13.
"Our NACD Atlanta Chapter embarked on a very ambitious strategy to improve every aspect of our service and value to members, sponsors, and the business community," said Eric McCarthey, NACD Atlanta Chairman. "The centerpiece of this strategy was expanding our board with the very best experienced directors. With Mario, Luis, and Tim, we have exceptionally talented new directors who will add substantially to our programming content design ideas and to additional subject-matter experts that each of their respective networks can bring to our sessions. We are so excited about them joining and adding new momentum to our mission."
Luis Aguilar served as a Commissioner at the U.S. Securities and Exchange Commission from July 31, 2008, to December 31, 2015. Prior to his appointment, Mr. Aguilar was active in both business and law. He has received many honors, including his 2017 selection as one of the Emory Law 100, recognizing him as one of the 100 most influential alumni of the Emory University School of Law in the past 100 years.
"I am excited to devote my time and effort to NACD Atlanta and the director community," said Mr. Aguilar. "I consider it an honor to be part of an organization that is dedicated to exceptional board governance and leadership. The NACD's sharp focus on helping directors and boards perform at the highest level results in immeasurable value to shareholders and our communities and economy. Its many events, publications, and programs are unique, creative, and truly informative."
Mr. Bentsen said, "I look forward to joining this exceptional group of NACD Atlanta directors and working together to build a local NACD brand that collaborates, inspires, and motivates higher levels of director engagement and sponsor commitment."
Tim Bentsen had the opportunity to work with leading businesses across multiple industries during his 37-year career with KPMG. He currently serves on the board of Synovus Financial Corp., and was on the boards of RidgeWorth Funds and Krispy Kreme Doughnuts until their successful recent sales. Mr. Bentsen also serves as an Executive-in-Residence and part-time instructor in the Masters of Accountancy program for the J.M. Tull School of Accounting in the Terry College of Business at the University of Georgia.
Mario Concha is a senior executive with extensive corporate board experience and a diverse background in chemicals, plastics, forest products, metals and mining. He was recently featured in Hispanic Executive in a Best of the Boardroom interview where we learned how he has put over 40 years of managerial experience to good use in the boardroom and on the slopes as a ski instructor in Vail.
"I have been a member of NACD for the past 10 years and participated in National as well as Atlanta chapter events" said Mr. Concha. "The chapter is now on a great trajectory, and I am excited to serve as a director as we continue to build program quality and director engagement."
To learn about upcoming NACD Atlanta Chapter programs, visit Atlanta.NACDonline.org.
About the NACD Atlanta Chapter
The National Association of Corporate Directors (NACD) empowers more than 17,000 directors to lead with confidence in the boardroom. As the recognized authority on leading boardroom practices, NACD helps boards strengthen investor trust and public confidence by ensuring that today's directors are well prepared for tomorrow's challenges. NACD's 22 chapters provide directors with a forum for sharing experiential knowledge, seeing over the horizon, and enhancing leadership. The NACD chapter-system programs bring awareness, education, and networking to directors across the country at local venues. It is also a powerful grassroots proving ground for NACD's research and policy efforts.
NACD has been setting the standard for responsible board leadership for 40 years. To learn more about NACD, visit http://www.nacdonline.org. To become an NACD member, please contact us at Join@NACDonline.org or 202-572-2089. If you are already a member in the Atlanta area, contact the chapter at programs@atlanta.nacdonline.org or 678-395-3618.
Share article on social media or email: