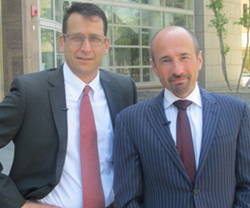 LOS ANGELES (PRWEB) July 18, 2019
A California state appeals court reversed a woman's conviction for murder and elder abuse in the 2011 death of her disabled sister. She had been serving a life sentence in prison following the conviction.
The three-justice panel from California's 2nd District Court of Appeal, Super. Ct. No. BA395107, ruled that Amy Sam Ho's trial counsel provided "ineffective assistance" and prejudiced her by not putting on a mental health defense, failing to offer the testimony of a pathologist, and failing to object to a jury instruction error on lesser charge consideration.
The prosecution has the option of retrying the case. Ho was convicted in 2016 of second-degree murder and elder abuse of her 60-year-old sister, who was declared dead after being taken to a Montebello hospital emergency room. The coroner determined she died of sepsis.
At Eisner Gorin LLP, our Los Angeles criminal appeal lawyers aggressively work to overturn and reverse criminal convictions in California courtrooms. We have argued extensively in front of the California Courts of Appeal and Federal 9th Circuit Court of Appeals.
Our attorneys specialize in criminal defense trial work, litigation of pretrial motions, motions for new trial, and to generally compile and preserve a thorough appeal record before sentencing in all misdemeanor and felony criminal cases.
The firm has successfully defended kidnapping, murder, theft, and many other serious felony matters.
Our law firm partners, Dmitry Gorin and Alan Eisner, are California Bar-Certified Criminal Law Specialists. They understand well how the jury trial and appeals process works and the relevant technical procedural issues.
Our Los Angeles-based law firm has been annually recognized a "Best U.S. Law Firm" by U.S. News and World Reports. This distinction is given only to Top 1% firms nationally. Eisner Gorin LLP specializes in criminal defense in state and federal courts.
The criminal defense lawyers aggressively represent clients against sex crimes, violent crimes, domestic violence, federal crimes, and white collar crimes.
For more information, visit us online at https://www.egattorneys.com
Share article on social media or email: