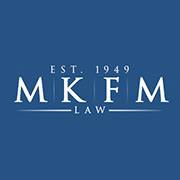 George S. Frederick, the managing partner at MKFM Law commented, "It is quite a privilege to be recognized by so many Daily Herald readers. I think it is a testament to our firm's core values: integrity and hard work of our skilled attorneys."
WHEATON, Ill. (PRWEB) August 22, 2019
The top picks were voted on by Daily Herald's readers, who sent in more than 44,000 votes. Readers cast their ballots for the "best of the best" in the Chicago suburbs, and MKFM Law won the coveted title of Best Law Firm. George S. Frederick, the managing partner at MKFM Law commented, "It is quite a privilege to be recognized by so many Daily Herald readers. I think it is a testament to our firm's core values: integrity and hard work of our skilled attorneys."
Daily Herald is a daily newspaper based in Arlington Heights, Ill. The newspaper is distributed in the northern, northwestern, and western suburbs of Chicago. The paper started in 1871 and is independently owned and run by four generations of the Paddock family.
About Mirabella, Kincaid, Frederick & Mirabella, LLC
Founded in 1949 by Attorney Joseph F. Mirabella, Sr., Mirabella, Kincaid, Frederick & Mirabella, LLC (MKFM Law) provides legal representation in a wide range of practice areas to clients throughout DuPage and surrounding counties. Their experienced attorneys are committed to providing clients with responsible, conscientious legal advice in the areas of divorce and family law; employment litigation and sexual harassment; civil litigation, criminal defense, and personal injury.
Joseph F. Mirabella, Jr., retired, is a former senior partner of MKFM Law. Joseph took over the firm in 1964 after his father, Joseph Sr., retired. Joseph Jr. focused primarily in the area of family law, and he chaired the DuPage County Bar Association's (DCBA) committee for family law. MKFM Law is the longest-running family law firm in DuPage County, over 50 years.
The attorneys of MKFM Law mourns the loss of their friend and colleague John B. Kincaid. John had a long and illustrious legal career that lasted almost 60 years marked by leadership and service. He tried more than 100 cases involving divorce and family law, personal injury, landlord-tenant disputes, and contract law. This loss is deeply felt by the legal community in DuPage County and throughout Illinois.
The attorneys at MKFM Law are diligent litigators who fight to protect their clients' best interests. They are admitted to practice in all Illinois courts, as well as numerous United States District and Appellate Courts.
To learn more about MKFM Law, visit https://www.mkfmlaw.com/ or call 630-665-7300 to schedule a consultation.
To learn more about the Daily Herald, visit https://www.dailyherald.com
Share article on social media or email: